Fried chicken and waffles is the perfect meal to serve at brunch or dinner! It's great for appetizers or as a meal.
We made this for dinner on Saturday night, and man oh man were they delicious! I've been seeing these pop up on pinterest lately and thought what a fun dinner this would be. We will definitely be making these again in the near future.
If you haven't made chicken and waffles yet, then you are missing out! The crispy chicken and irritable waffles & syrup are a delicious combination.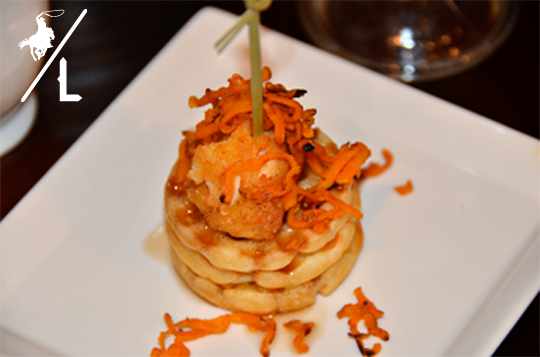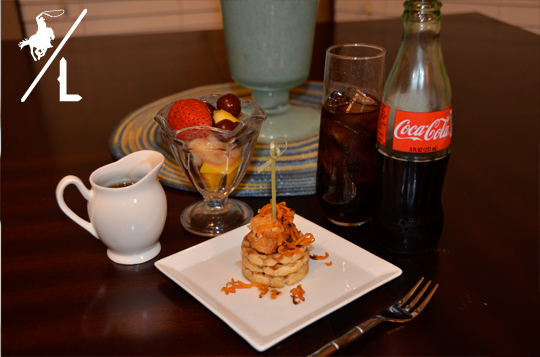 How to make Fried Chicken and Waffles
Ingredients:
6 boneless chicken tenders
1 cup flour
1 tbsp salt
2 tsp cayenne
2 eggs
2 cups vegetable oil
1/2 cup syrup
Directions
Using a large skillet, add oil set to medium heat.
In a mixing bowl, add the flour, salt, sugar and cayenne.
In a seperate bowl, beat the eggs.
Cut the chicken into nuggets and dip in the flour mixture, then eggs and again into the flour mixture.
Place the chicken into the hot oil and cook until golden brown.
Remove from the oil and place on paper towels to dry.
Then add to the top of mini waffles, sprinkle on fired sweet potatoes and drizzle with syrup.
It's such a simple meal, but with a cute twist. We made ours with Belgium waffles, the fried chicken nuggets topped with crispy sweet potatoes and drizzled in syrup. Served with fresh fruit and bottled Cokes!
For More Recipes Check out: