Take a trip down The Mother Road and experience the charm and quirky attractions along the way.
Route 66 has everything from vintage motels, quirky roadside attractions, classic cafes, and state parks that everyone needs to experience at least once.
Route 66 Texas Attractions
What is Route 66?
The most famous road in America. Known as The Mother Road, Main Street of America, Will Rogers Highway, and Route 66.
What began in 1926 as one of the first US highway systems that ran 2,449 miles from Chicago, Illinois to Los Angeles, California. The highway stretched through California, Arizona, New Mexico, Texas, Oklahoma, Kansas, and Illinois.
During the 1930s Dust Bowl, thousands of travelers head down Route 66 in search of a better life. You can read (or watch) the 1939 book, The Grapes of Wrath by John Steinbeck which gives you a feel of the struggles people endured during the great depression.
Sadly, in 1985 Route 66 was decommissioned and replaced with the US interstate system. Travelers no longer wanted slow road trips and opted to get to their destinations quickly.
Those small towns along Route 66 felt the economic impact of losing those travelers. However, the spirit of the popular Route 66 lives on today through road-trippers looking for quirky roadside attractions, restaurants, and abandoned buildings along the route.
How Long is the Texas Route 66 Drive?
Route 66 in Texas begins in Glenrio and ends in Shamrock. If you plan to take a long drive, plan for 2.5 hours without any stops.
Where is Route 66 in Texas?
Texas has the shortest stretch of the famous Route 66 with only 179 miles that cuts across the Texas Panhandle.
Texas Route 66 Attractions
2nd Amendment Cowboy
Located near Cadillac Ranch, this giant cowboy is a fun attraction. Be sure to check out the one-of-a-kind gift shop that sells t-shirts, Route 66-themed items, and jewelry.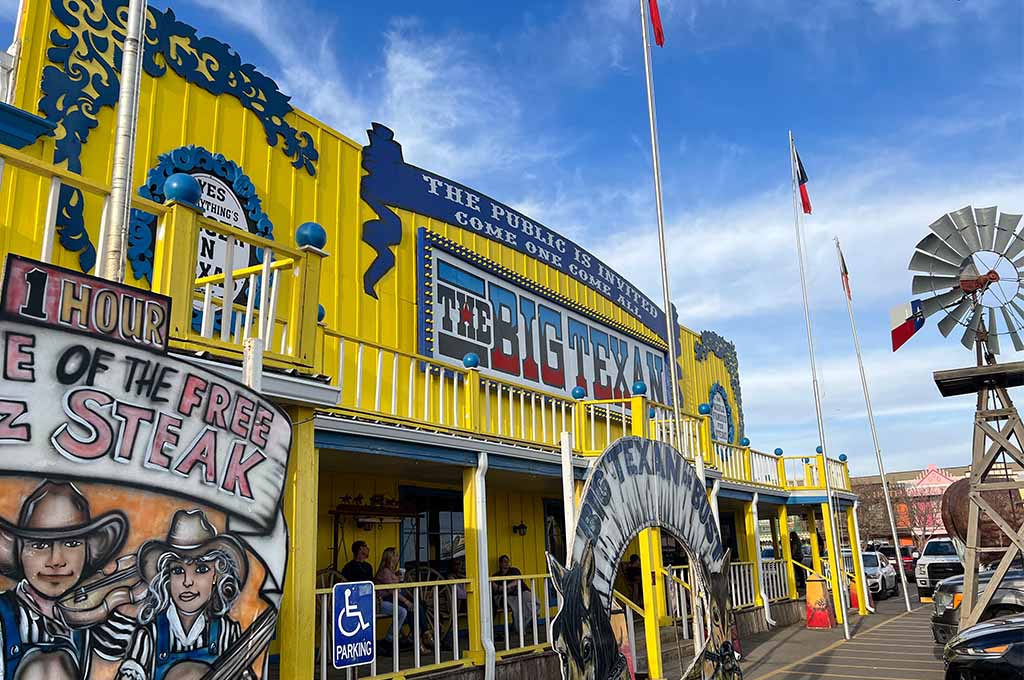 Big Texan Steak Ranch & Brewery
Come with a big appetite and take your chance at eating the famous 72-ounce steak challenge. Diners who can eat a 72 px. steak and fixing in less than an hour, the meal is free. If not, you pay $72 for the steak dinner.
But don't worry, this over-the-top restaurant has plenty of meal options at a reasonable price!
Along with the restaurant, there is also a large gift shop, RV park, hotel, and horse hotel available for those traveling with horses.
Cadillac Ranch
Probably the most famous attraction along The Mother Road. It's home to ten Cadillacs that have their noses buried in the ground.
The art installation is open 24 hours a day and is free. Visitors can bring their spray paint and deface the cars. If you didn't stop for supplies, you can purchase paint from the gift shop on-site.
This is one of those iconic attractions in Amarillo that you do NOT want to miss!
Combine City
This historic Route 66 plays tribute to the Cadillac Ranch. Here you will see the half-buried combine harvesters located off Route 66.
Graffiti is not permitted at this attraction and there is barbed wire surrounding the combines to keep visitors off the machines.
Devil's Rope and Route 66 Museum
Walk-through exhibits of Old Route 66 include a map of Route 66 through Texas, photos, vintage gas pumps, vintage signs, and a 50's diner display. The museum features the largest collection of barbed wire.
Floating Mesa
A quirky art installation along Route 66 is a must-see. Because of the way it's painted, it makes it appear as if it's floating. Although you can't get close up to it because it's fenced off, it's still a unique art you will want to see.
READ NEXT: Weekend Guide to Fredericksburg, Texas
Leaning Water Tower
Located in the town of Groom, is this fun leaning water tower! The Leaning Tower of Texas was created in the 1980s next to a truck stop. However, there was an electrical fire that destroyed the gas station in 1985. Now all that remains is the tower. During Christmas time, the star on top is lit up.
Midpoint Cafe
Opened in 1928 with a slogan that reads "When you're here, you're halfway there." Known for its delicious pies, typical cafe food, and gift shop. It's the perfect spot to dine during your Route 66 road trip.
Ozymandias On the Plains
One of the most quirky roadside attractions in the Lone Star State. The pair of giant legs wearing athletic socks in the middle of a field is the perfect place to take a break from driving. Located on private property, visitors will have to take photos from afar.
Ozymandias is the Greek name for Ramesses II and was the inspiration and name of a famous poem written in 1818 by Romantic poet Percy Shelley after a visit to the ruins.
Palo Duro Canyon State Park
This is a main attraction for those looking to spend a longer time in Amarillo. This state park has everything from hiking, camping, zip-lining, biking, and visitor center to horseback riding. With more than 28,000 acres, there is plenty of space to explore this 120-mile-long canyon.
Route 66 Historic District in Amarillo
Amarillo's Route 66 Historic District is lined with classic cars, cafes, street art, boutiques, gift shops, and cafes. This is a great place to stroll through the shops and take a photo at the Route 66 sign.
Shamrock Art Deco Architecture
This town has several Art Deco building from the 1930s that you don't want to miss. Visitors will want to stop by the infamous Route 66 landmark, sometimes referred to as the Tower Station, a gas station and cafe built to accommodate people on The Mother Road (US-66) and US-83.
VW Slug Bug Ranch
Created in 2002, is similar to Cadillac Ranch, but done with VW Slug Bugs. Slug Bug Ranch is made with 5 Volkswagen Slug Bugs half buried in the sand.
Must-See Towns on Route 66 in Texas
Adrian
A famous town along Route 66 is best known for being the midway point along this historic route. From here it's 1,139 miles to Chicago and 1,139 miles to Los Angeles. Also home to the iconic Midpoint Cafe.
Amarillo
The only Texas city that runs along Route 66, has some of the most preserved sections of the original Route 66 and famous roadside attractions where everyone lives.
Glenrio
This unique town is located in both Texas and New Mexico and is a literal ghost. The only thing left in this town is abandoned buildings, including the little Juarez Cafe.
McLean
What once was a booming ranching and oil town, is now one of many ghost towns along the route. McLean's entire Commercial District is listed on the National Register of Historic Places.
Shamrock
Known for its classic art deco architecture, and the famous U-Drop Inn Cade and Cononco Tower Station. These are must-visit stops along part of Texas Route 66.
Texola
Situated on the Oklahoma/Texas state line and is home to the Magnolia Service Station, a classic Route 66 stop.
Vega
This is the second Magnolia Service Station along Route 66, this gas station has been fully restored to look like it did during the 1920s heyday of Route 66.