Located in the Texas Panhandle, Amarillo is the perfect destination for a weekend getaway. You'll find everything from museums, shopping, epic hiking trails, quirky roadside attractions, and more!
What to do in Amarillo
Cadillac Ranch
This is one of the most unique and famous attractions in Amarillo. The best part is that it's free and open 24 hours a day!
This public art installation was completed in 1974 and was moved further out of town in 1997. Cadillac Ranch features 10 Cadillacs with their noses buried in the ground.
Visitors can bring their spray paint and deface the cars. If you didn't stop for supplies, you can purchase paint from the gift shop on-site. Or you can pick up cans that are littered all along the field leading up to the cars.
Amarillo is EXTREMELY windy. So be prepared for the paint to blow back in your face and feel as if you are in a wind tunnel.
Best Attractions in the Texas Panhandle
READ NEXT: Guide to Palo Duro Canyon
The Big Texan Steak Ranch & Brewery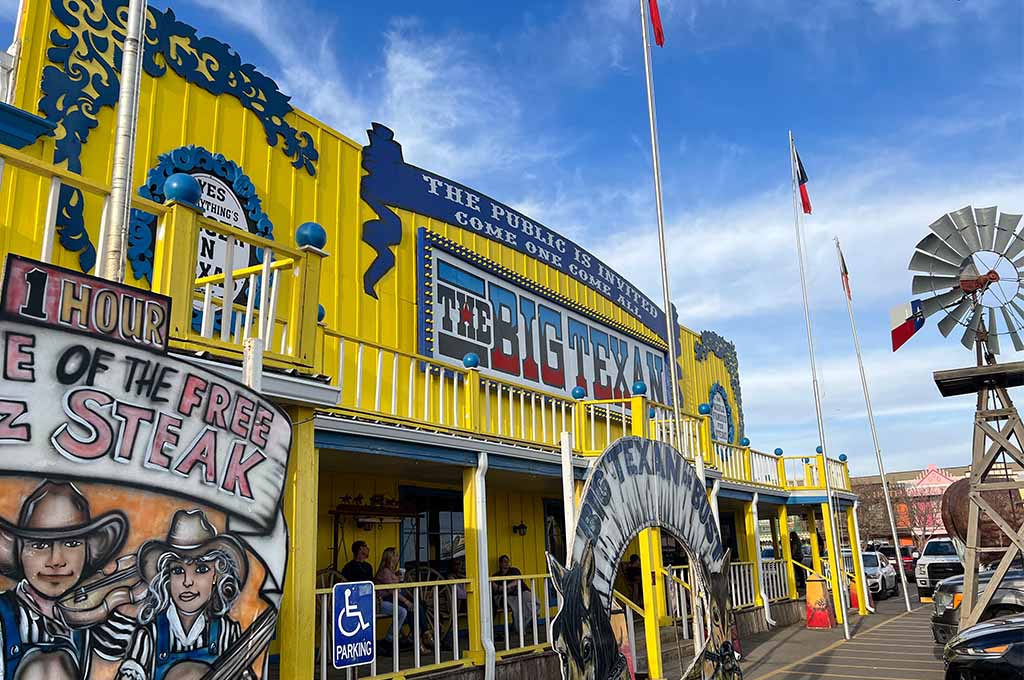 Made famous for its 72-ounce steak challenge. Participants who can eat a 72-ounce steak, shrimp cocktail, baked potato, salad, and roll all within one hour will receive the meal for free.
If they are unable to complete the challenge, they must pay $72.
Not that hungry? No worries, they have plenty of meal options at reasonable sizes and prices.
The restaurant is located along Route 66 and has been open since 1960.
They also have a gift shop to browse thru while waiting for your table as well as an RV park, hotel, and horse hotel for those traveling with their horses.
Wildcat Bluff Nature Center
This is a must-see in Amarillo. The nature center sits on 640 acres of wide open space.
With 5 miles of trails and 5 acres of paved and accessible paths, this is an outdoor oasis for everyone.
We decided to hike the 5-mile trail and it did not disappoint. The trails are marked and have benches to sit and relax along the way.
The views are incredible and the hike was easy, yet a fun destination.
Amarillo Zoo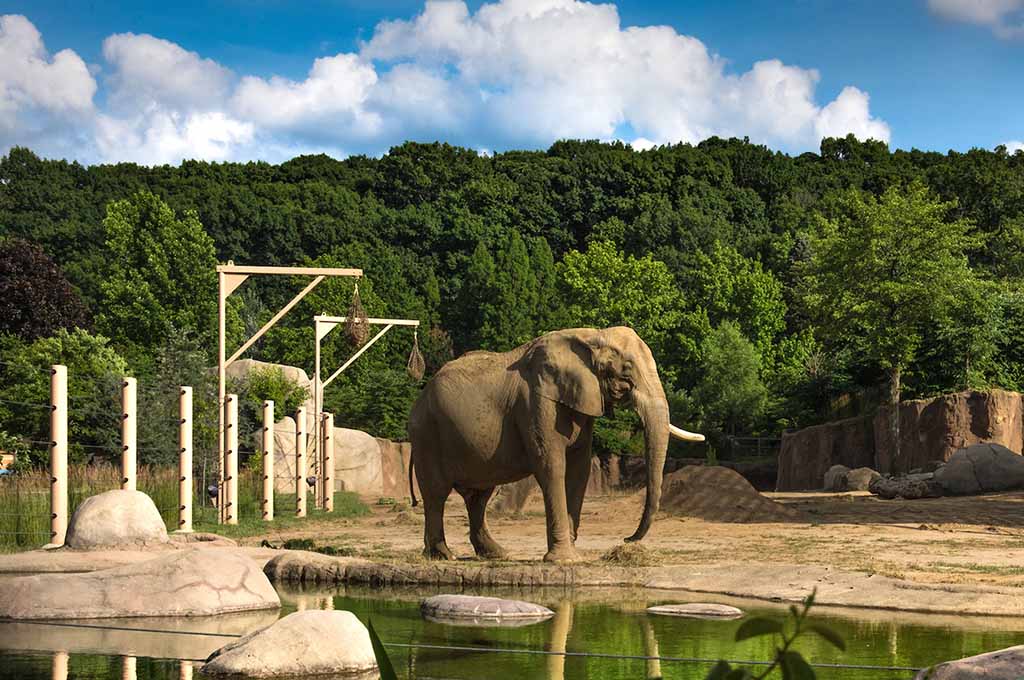 A fun outdoor activity for kids and families. The Amarillo Zoo has more than 88 species of animals in the 15-acre park.
The zoo has everything from exotic birds, prairie dogs, snakes, and exotic Texas species to just name a few.
This zoo was founded in 1955 and has steadily grown to what it is today. It's a popular tourist destination as they have live shoes, animal encounters, zoo keep chats, and multiple holiday and seasonal events throughout the year.
Don Harrington Discovery Center
Focusing on interactive exhibits that allow children to get a hands-on learning experience. Visitors have the chance to learn about space, the planet, and weather conditions.
Along with the interactive exhibits, the center also has a Space Theater, Critter Row, Kinder Studio, and Little Builders.
Once outside, guests can view the Helium Time Column Monument. It was built in 1968 to celebrate the 100th anniversary of the discovery of helium.
Jack Sisemore Traveland RV Museum
The Jack Sisemore Traveland RV Museum was founded by a son and father, named Trent and Jack Sisemore.
This free museum features a wide collection of vintage and unique RVs dating from the 1930-1970s.
Along with the RVs, the museum also has vintage cars, a retro gas station, a drive-through, appliances, camping chairs, old pedal bikes, and cameras on display.
READ NEXT: Best Flea Markets in Texas
Route 66 Historic District
Along Historic Route 66 visitors will enjoy seeing sites such as the Natatorium, Adkinson-Baker Tire Company, Taylor's Texaco Station, art galleries, boutique shops, and restaurants.
This 13-block area is a fun place to walk around, shop, and remember or imagine the glory days of Route 66.
Amarillo Botanical Gardens
Take a break from the dusty Texas Panhandle and enjoy the lush landscape of the botanical gardens.
Sitting on 4 acres, each of the gardens has unique themes and plants in each.
The gardens include the butterfly garden, fragrance garden, Japanese garden, and xeric garden.
Guests can enjoy seeing tropical plants at the Mary E. Bivins Tropical Conservatory.
Palo Duro Canyon State Park
Nicknamed the Grand Canyon of Texas, Palo Duro Canyon is 120 miles long and 20 miles wide, with the deepest point at over 800 feet.
It's the second largest canyon in the United States and is a beautiful site to see.
With its miles of trails, majestic hoodoos, steep mesa walls, and multicolored layers of rock, it's no wonder why this park is a popular vacation destination.
The state park consists of 28,000 acres and offers over 30 miles of hiking, biking, and equestrian trails. It's a destination that can't be missed.
READ NEXT: 15 Things to do in Shiner, TX
Wonderland Amusement Park
Opened in 1951, Kiddie Land with only three rides has now grown into an amusement park with over 30 rides. This is one of the best things to do with the family for a fun day spent outdoors.
Rides include bumps cars, miniature golf, roller coasters, boat rides, merry-go-round, and water rides open during the summer.
The amusement park sits on 610 acres inside Thompson Memorial Park. There is also a zoo, bike rides, two lakes, a playground, a disc golf course, and a dog park.
Bill's Backyard Classics
With classic cars ranging from 1928 to 2012, this automobile museum has an impressive collection of over 100 vehicles.
Cars range from military Jeeps, Corvettes, and smart cars. Popular cars on display are Judge Roy Hofheinz's 1956 Cadillac Fleetwood Limo and the 1961 Pontiac Catalina owned by Bob Seder.
Texas Air & Space Museum
Located at Rick Husband Amarillo International Airport, the aviation museum focus on the history of space and air travel.
Along with several classic aircraft, artifacts and memorabilia there is also a Bell OH-13S helicopter used in MASH and a 1945 Douglas DC-3 N34.
Other artifacts include a hot-air balloon basket, a 1960's homemade crop duster, and an outdoor park with features rare aircraft.
American Quarter Horse Hall of Fame & Museum
The museum is for equine enthusiasts, with its artifacts, and paintings. trophies and photographs.
Walk through the museum and enjoy the amazing paintings from renowned artist Orren Mixer, interactive displays, and photography of famous horses.
Other displays also include riding clothing, equipment, and ribbons. Visitors can also check out the carved stonework at the Grand Hall that displays the bloodlines of the horse breed.
Amarillo Museum of Art
With over 2,000 pieces in the permanent collection and hosting more than 15 art shows dedicated to local artists from around Texas, there is always something interesting to see at the Amarillo Museum of Art.
The museum does not have an admission fee, making it one of the best free things to do in Amarillo.
Harrington House
The Harrington House Historic Home was built in 1914 in the Neoclassical style.
Tours of the home take place each Tuesday and Thursday. Guests will enjoy the vintage gowns, dresses, furniture, paintings, and table settings that change with the seasons.
Alibates Flint Quarries National Monument
Located 40 miles outside of the city and city on the shores of Lake Meredith.
Guests can start their visit at the visitors center and watch an 11-minute film, visit the bookstore and view the exhibits.
Once back outside, guests can enjoy the Alibates Interpretive Garden and the Native American gardens.
If you want more of an adventure you can hike the Mesquite Trail, Mulling Trails, McBride Canyon, or Bates Canyon.
Besides viewing the monument, visitors can also enjoy camping, boating, horseback riding, birding, hunting, and other outdoor adventures.
Tascosa Drive-In
This is a fun, unique date night or activity to enjoy with the family. This classic drive-in is a fun way to enjoy a vintage moving-watching experience.
The theater shows a double feature Friday through Sunday. Gates open at 8 pm and showtime begins at dark. Guests are welcome to bring in their food or purchase snacks at the concession stand.
Unique Roadside Attractions in Amarillo
READ NEXT: Best Roadside Attractions in Texas
VW Slug Bug Ranch
Another fun and unique roadside attraction similar to Cadillac Ranch.
This art installation has five Volkswagen Beetles buried hood down in the ground. There is also an abandoned gas station and signs next to the cars.
Visitors can drive right up the beetles, spray paint them and take a few pictures before heading back out on the road.
Combine City
Visitors are not able to vandalize or get up close and personal with the combines, but it's still a site to see.
Combine City is located on two acres of land and has 14 combines placed in the ground with their blades in the air.
Ozymandias on the Plains
This is a unique and quirky thing to do in Amarillo. The sculpture is of two legs in athletics socks and placed on a pedestal.
The statue is a depiction of Ramesses II the Egyptian King or the legs of Ozymandias. Guests can view the art installation off of I-27.
Floating Mesa of Amarillo
This roadside attraction is an art installation that makes the mesa appear as if it's floating.
This illusion is best viewed when the sky is perfectly white. During that time the white plywood running across the mesa blends into the sky.
2nd Amendment Cowboy
Also known as the Muffler Man, stands tall with his giant cowboy hat and yellow shirt.
It is located near Cadillac and this attraction makes for a fun place to get out and stretch your legs.
Dynamite Museum
Not your typical museum. It consists of thousands of painted-over road signs that are scattered across Amarillo.
Most signs can be found in Mariposa Eco-village, with others posted around the city.