One of the great things about living in the Lone Star State, is that there are countless charming towns. I recently spent the day exploring Decatur, Texas which is such a fun and charming town.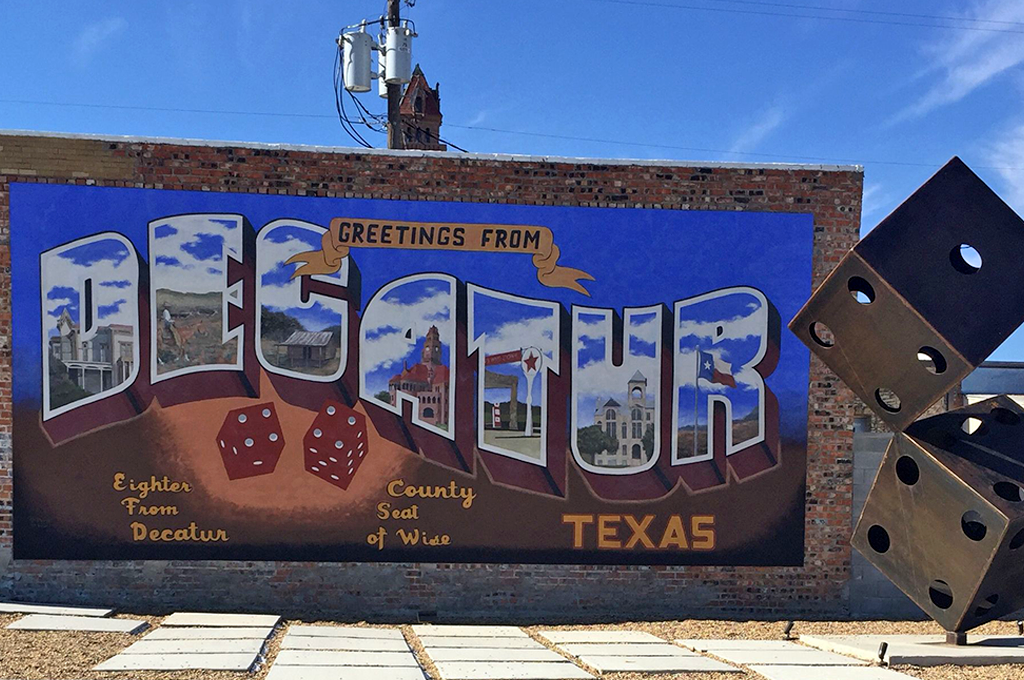 What to do in Decatur, Texas
Trinity Street Coffee
I started my morning by enjoying a cup of coffee at Trinity Street Coffee. This coffee shop is full of character and had me wishing I could stay here all day. The coffee shop has a rustic, but modern feel. Not only do they serve coffee, but also food, cigars and have a full bar.
Decatur Town Square
After we were fully awake from our coffee, it was time to hit the square to see what was going on. Our first stop was Hey Sugar – a candy shop you must go in! Around the square you will also find restaurants, boutiques, antique shops and a yoga studio.
But before you leave the town square area, be sure to get your photo taken in this photo-booth. The decorations change with the seasons. But unfortunately no phone calls can be made – it's for decoration only.
Where to Stay in Decatur, TX
There are plenty of places to lay your head, but if you are looking for a little bit of history, you need to check out The Courthouse Suites.
The hotel sits directly across from the courthouse and above Divine Center of Yoga. The Courthouse Suites was once used as a brothel! There are four unique rooms with each having its own theme.
Located a few blocks from Main Street is The House on Main. The home was built in 1895 and is currently being renovated into an elegant B&B. It's perfect for a girls weekend or wedding parties.
And speaking of weddings, you need to book The Big White Barn. Aside from hosting weddings, they also host monthly family dances. It's a fantastic way to step back in time and enjoy a fun evening of dancing.
National Roping Supply
You can't visit Decatur without stopping at National Roping Supply. NRS is located on 265 acres that houses the NRS Store that sells apparel, home decor, boots, tack and saddles. They also have a huge RV store arena and ranch.
The arena hosts events almost every weekend, clinics for all ages, stalls & hookups for your horse. They also have a bunkhouse and four beautifully decorated cabins for when you need a night away from it all.
Whether you need a new pair of boots, take the family for a trail ride, or enjoy a weekend on the ranch. NRS has it all!
DIY Studio Decatur
Show off your creative side at DIY Studio Decatur. You can sign up for a workshop or book a private class for a party with friends. They have an extensive list of projects ideas or you can contact them for creating something special you had in mind.
Fun fact about DIY Studio Decatur is that they also make a lot of signs that are sold down in Waco at Magnolia. So basically you are just as cool as Chip & Jo when you're creating a project here!
Of course there was plenty of other things to explore in Decatur, but I didn't have time to see it all. But I guess that gives me an excuse to have to come back!
Check out these posts for more fun and exploring in Decatur
More posts you may like: