Spending a day in Fort Worth, Texas is a must-do! Whether you are wanting to spend a day kayaking, splashing in a lake, exploring dinosaurs, visit museums or ride a train, you'll find it in Fort Worth.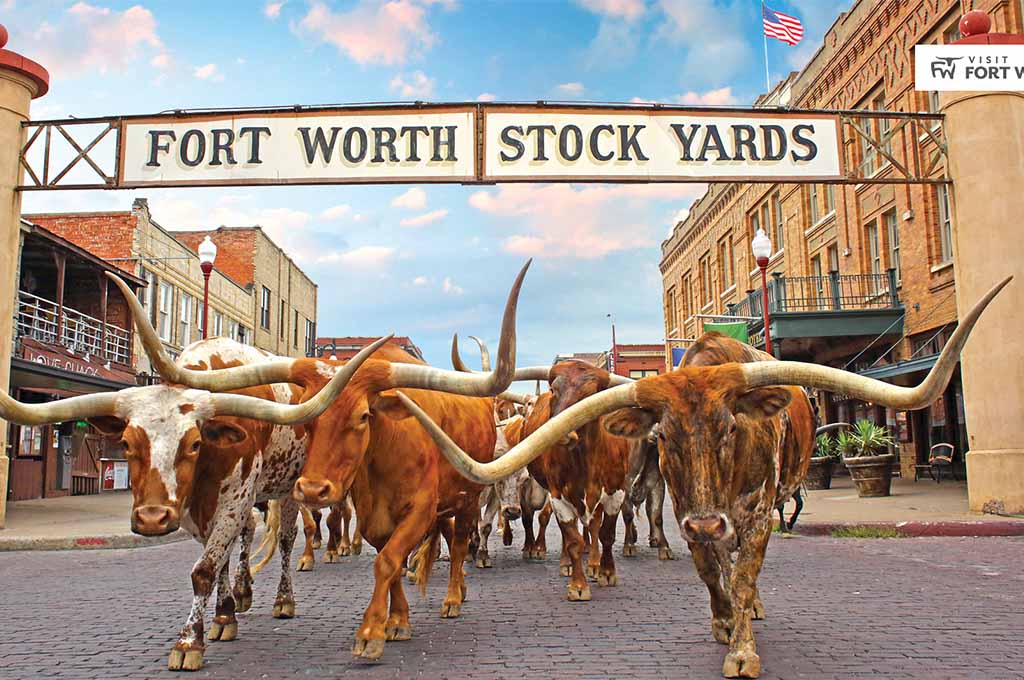 The only hiccup is that when you travel with kids and you plan to spend a day or two here, you are going to be laden down with your luggage. You might not feel comfortable living with it being in the car, but you could find secure luggage storage options and put all of the paraphernalia, shopping and even your overnight bag in there while you explore and have fun. Why carry everything when you don't have to?
Fort Worth has so many activities for children. From free events, outdoor activities, and cultural learning. So if you are wanting something to do with the kids for a few hours, a full day, or a weekend getaway, Cowtown is the place to go.
Family Fun in Fort Worth
Fort Worth Museum of Science and History
This hands-on museum is great for kids of all ages. You'll find a dinosaur dig, artifacts from the Space Race and Space Shuttle, the 9/11 Tribute, Cattle Raisers Museum and special interactive exhibits that change throughout the year.
Visitors can also travel through the universe at the Noble Planetarium or catch a movie on the rounded 8-story screen at the Omni Theater.
Fort Worth Zoo
Ranked the number one zoo in the United States by USA Today, so of course, it's at the top of our to-do list. There is always something new and exciting happening at this zoo. The Museum of Living Art is always our first stop at the zoo.
It is important to note that the zoo is currently going through an extensive master plan innovation and project, so I highly recommend looking on the website before visiting to see what exhibits are on display.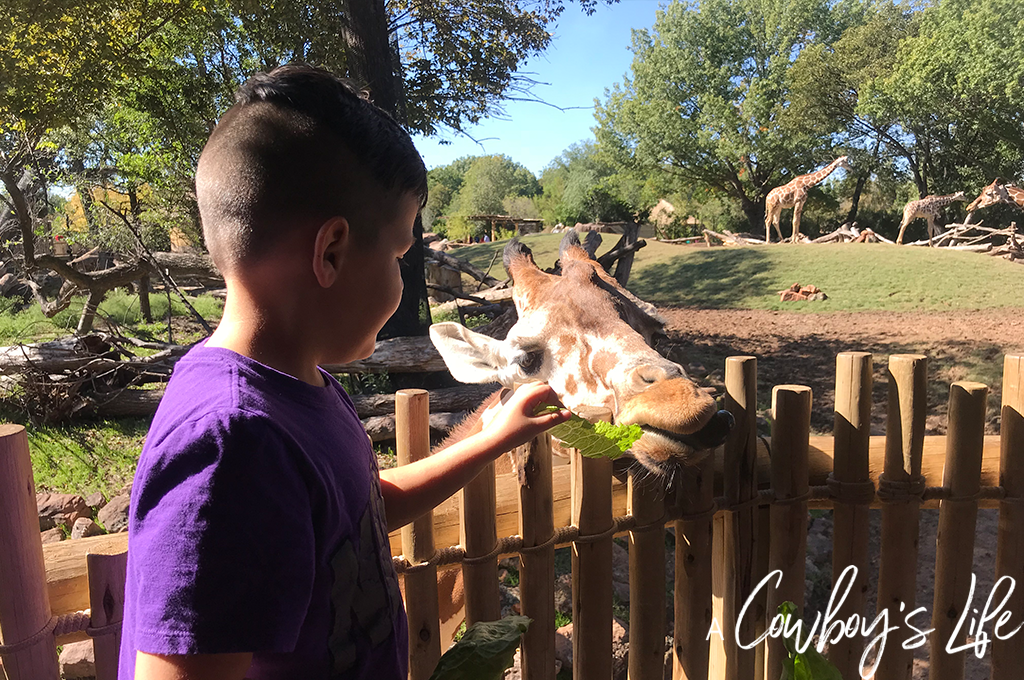 Japanese Garden
The Fort Worth Japanese Garden is 7.5-acres and located inside the Botanic Gardens. Guests can enjoy strolling through the winding paths, cherry trees, Japanese maples, magnolias, brings, and several ponds filled with more than 1,200 Koi fish.
Fort Worth Botanic Garden
The Botanic Garden features several unique gardens, a native Texas boardwalk, rose gardens, vegetable gardens, and a tropical foliage conservatory. It's home to more than 2,500 species of plants in 23 different gardens.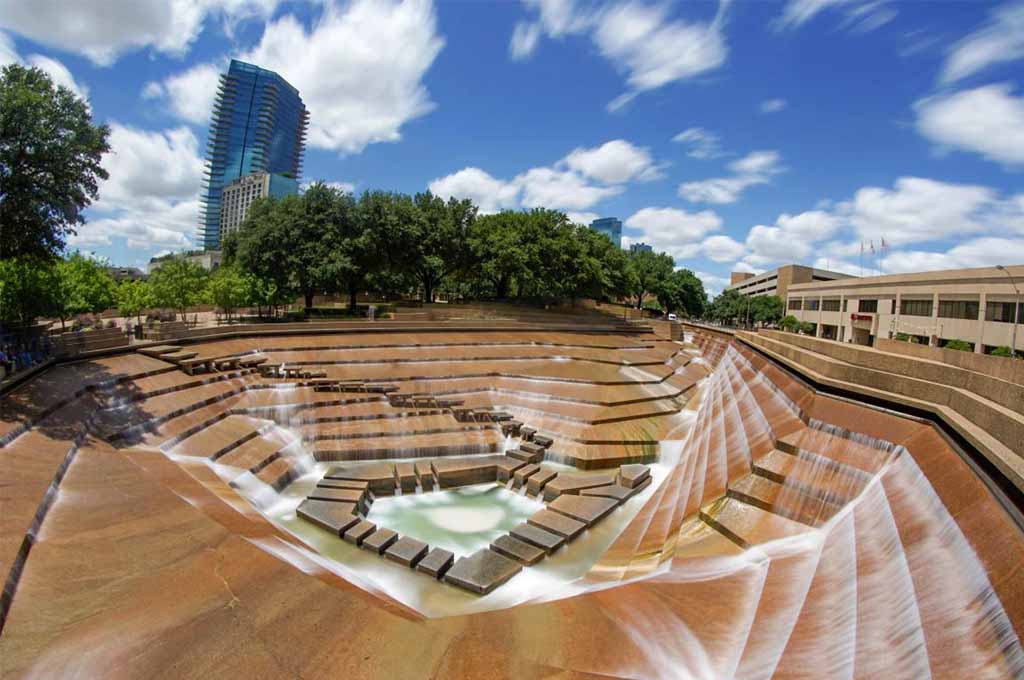 Kimbell Art Museum
This free museum hosts a large art collection that includes antiques, European, Asian, African art, educational programs, and multiple traveling art exhibitions.
Permanent exhibits include Fra Angelico, Michelangelo, Caravaggio, Poussin, Monet, Picasso, and Matisse.
READ NEXT: Best Amusement Parks in Texas
Backwoods Paddle Sports
Head to the Trinity river for the best place to rent water sports. They have everything from canoes, kayaks, and stand-up paddleboards.
Paddle down the Trinity while enjoying the gorgeous views of downtown Fort Worth. It's the perfect place for a fun afternoon family outing.
National Cowgirl Museum and Hall of Fame
This museum is dedicated to honoring the women of the American West who had the courage and the pioneer spirit in their trailblazing efforts.
It includes interactive exhibit galleries that feature artifacts of the permanent collection, a traveling exhibit gallery, two theaters, a gift shop, and a research library and archives.
Visitors can test their bronc riding skills on the renovated bronc ride by saddling up! You will be superimposed into real rodeo footage, and you can email or text your clip.
READ NEXT: 21 Exciting things to do in Weatherford, TX
Fort Worth Nature Center
Located on 3,000 acres and has over 20 miles of hiking trails and is one of the best places to hike with kids in Texas. This is the perfect spot to explore nature, picnic, and get up close & personal with buffalo.
There are plenty of shade trees and picnic tables scattered throughout the park.
Be prepared to see bison, deer, and buffalos. It's easy to spend an entire day here exploring!
Forest Park Miniature Railroad
This has been a family tradition since the 1950s. This miniature train ride takes you through part of the Trinity Trails. The complete 5-mile circuit features two depots, six bridges and is about a 40-minute ride.
Bureau of Engraving
Inside the free Tour and Visitor Center, you'll be treated to both an interactive history lesson about currency production and up-close views of real bills coming off the printing line.
Before your self-guided tour, visitors are invited to watch an immersive film that takes you inside the production process, as Bureau employees share their unique part in transforming a blank sheet of paper into U.S. currency.
The tour takes place on an elevated walkway that overlooks the production floor.
Before leaving, stop by the gift shop for souvenirs including uncut currency sheets, and birthday and anniversary currency-themed items.
*Due to Covid, tours are currently closed. Check the website for updates on when tours will resume.
Fort Worth Stockyards National Historic District
Pull on your cowboy boots and make your way to the famous Stockyards. Once you stroll down the bricks of Exchange you'll realize the fascination with cowtown!
Start the day off by watching the twice-daily Fort Worth Herd cattle drive, catch a shootout show, take a trail ride, find your way out of the Cowtown Cattlepen Maze, petting zoo and stroll through the shops.
Take a break and grab lunch (or dinner) at one of the many great restaurants. The local favorites that are kid-friendly include Love Shack, Riscky's Barbecue, and The Biscuit Bar.
Looking for an authentic cowboy experience? Then check out the Stockyards Championship Rodeo that takes place every Friday & Saturday night at 7:30. It's the perfect place to watch bull riding.
Amon Carter Museum of American Art
Located in the cultural district, you will enjoy the expansive free museum. Be sure to check the calendar of events on the website. The museum offers family workshops, toddler studios, art tales, and storytimes.
Log Cabin Village
This living history museum takes you back to life on the frontier. Each of the historic structures is furnished with authentic artifacts that give you a glimpse of life in the nineteenth century.
Exhibits include a water-powered gristmill, one-room schoolhouse, blacksmith shop, herb garden, and several log homes.
You will see the volunteers and staff dressed as those who lived and settled in the area in the mid-1800s.
Fort Worth Water Gardens
This downtown oasis is located next to the Convention Center. Visitors can experience a variety of water features as they wander through this relaxing urban park.
Visitors can climb the steps down to the active Pool. Being 40 feet below, you get a unique perspective of the rushing water.
Be sure to also visit The Quiet Pool features a sheet of water falling into a still, sunken pool surrounded by bald cypress, while the Dancing Pool boasts forty aerating fountains.
Sundance Square
This area of Fort Worth is the center of it all. It covers 35 blocks and is a mix of old and new.
Here you can find everything from art galleries, live music, shopping, restaurants, coffee shops, movie theater, large fountains, and more.
SeaQuest Fort Worth
Enjoy over 20,000 square feet of adventure! Visitors can touch, feed, and interact with animals from five continents. Want to get a little more up close and personal with the animals?
Then you can purchase additional experiences such as a seaside spa session, Asian otter interaction, sloth interaction, snorkel with stingrays, or a kinkajou encounter.
Burger's Lake
The perfect place for family fun in the sun! The park sits on 30-acres and in the middle is a one-acre spring-fed lake for swimming.
The lake is chlorinated, filtered, and chemically maintained by a state-of-the-art purification system, the lake is clean and safe for your swimming enjoyment. Certified lifeguards are on duty at all times.
The park has two sandy beaches for sunning and with trees sprinkled through to get some shade during the hot summer months.
Over 300 picnic tables, six diving boards, 20-foot slide, and 25-foot trapeze. They also have a concession stand, volleyball courts, and charcoal grills.
Dream Park
This is not your typical park and playground. Dream Park is a playground for children of all abilities and is located inside Trinity Park. Its 57,000 square feet and is fully fenced in.
It's a place where everybody can play. This park will give you chills and bring a smile to your face seeing that every child can play and have fun.
Kids with mobility challenges and other issues will no longer be left on the sidelines when it comes to playing in a public park.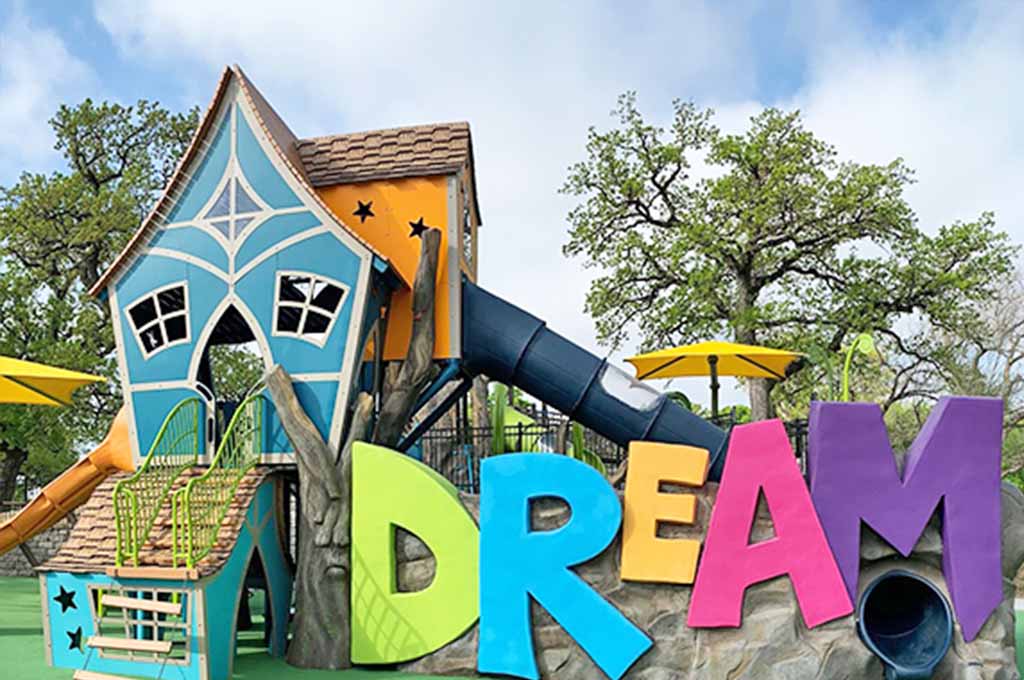 Bass Performance Hall
This gorgeous performing arts hall is located in Sundance Square. Its the permanent home to the Fort Worth Symphony Orchestra, Texas Ballet Theater, Fort Worth Opera, Van Cliburn International Piano Competition, and Cliburn Concerts.
Throughout the year they have Broadway Plays, musicals, concerts, and the Nutcrackers during the holidays.
Texas Motor Speedway
Fire up the engines and head to North Fort Worth for some motorsports. The speedways are the place to watch NASCAR, truck races, and special events.
Trinity Trails
This 70-mile trail follows along the bank of the Trinity River. This is the perfect place to get out with the family and it's free! Visitors can walk, jog or bike along the trails.
Or better yet, you can bring your house or go on a rented trail ride. Along the Trinity Trails are playgrounds, picnic tables, coffee shops and restaurants.
Altitude Trampoline Park Fort Worth
Have kids that need to get their wiggles out? Altitude Trampoline Park is a 35,000-square-foot indoor trampoline park that has a main court, battle beam, dodge ball, foam pit, rock climbing, wipeout, basketball and a designated toddler area for the smaller kids.
Modern Art Museum of Fort Worth
This museum collects any media in the post-World War 2 world, including documenting international developments. It has a main collection and rotating special exhibits throughout the year.
Guests can also dine the Modern Cafe for lunch and dinner. The Museum offers half-price tickets on Sundays and free admission on Fridays.
Hawaiian Falls
The tropics of Hawaii in the middle of Texas. There is no better place to beat the brutal Texas heat than at this awesome waterpark. Enjoy days going down the exciting slides, floating the lazy river or riding waves in the wave pool.
Acton Nature Center
Located in Granbury, visitors can explore the wildlife of Texas. The park offers hiking and biking trails, butterfly garden and birding. The center also hosts free kids event throughout the year that include Star Parties, Nature Fun Run and Reptile Day.
RELATED POST: Best Breakfast in Fort Worth
Texas Cowboy Hall of Fame
Located in the heart of the Stockyards District, guests can enjoy the historical displays, cowboy artifacts, guided tours and scavenger hunts that will keep the kids engaged.
Six Flags Over Texas Arlington
Six Flags is constantly opening new rides and keeping the classic coasters that have guests returning each year.
This amusement park near Dallas features high-flying thrill rides, and family rides and has an area for smaller guests. The park also offers various events throughout the year like Fright Fest and Holiday in the Park.
Guests can take a break and enjoy a live show or enjoy dining at one of the many restaurants located throughout the park.
Casa Mañana Theatre
Opened in 1958, this dome theatre is sits in the heart of the cultural district. The theatre hosts Broadway productions, children's theatre, cabaret, camps and classes.
DFW Adventure Park
Looking for some outdoor adventure and thrills, then this is the place to go. They offer everything from ropes courses, paintball, zip-lines, airlift, and laser tag.
Fort Worth Aviation Museum
Located near Fort Worth Meacham International Airport, it's home to the B-36 Peacemaker Museum and Forward Air Controller's Museum.
The museum features 30 jets, including the F-18 Hornet and OV-10 Broncos, as well as aircraft memorabilia.
Vintage Flying Museum
Stroll through the grounds exploring the vintage aircrafts, which some you are able to climb inside and explore.
There is two-dozen historic aircrafts in the old hangers and throughout the grounds. As well as, WWII memorabilia and planes from Vietnam.
Cinnamon Creek Ranch
The ranch offers both indoor and outdoor archery ranges. Visitors can rent equipment or bring their own. They also have archery tag, ax throwing, and monthly outdoor dinner events.
Fort Worth Kids Activities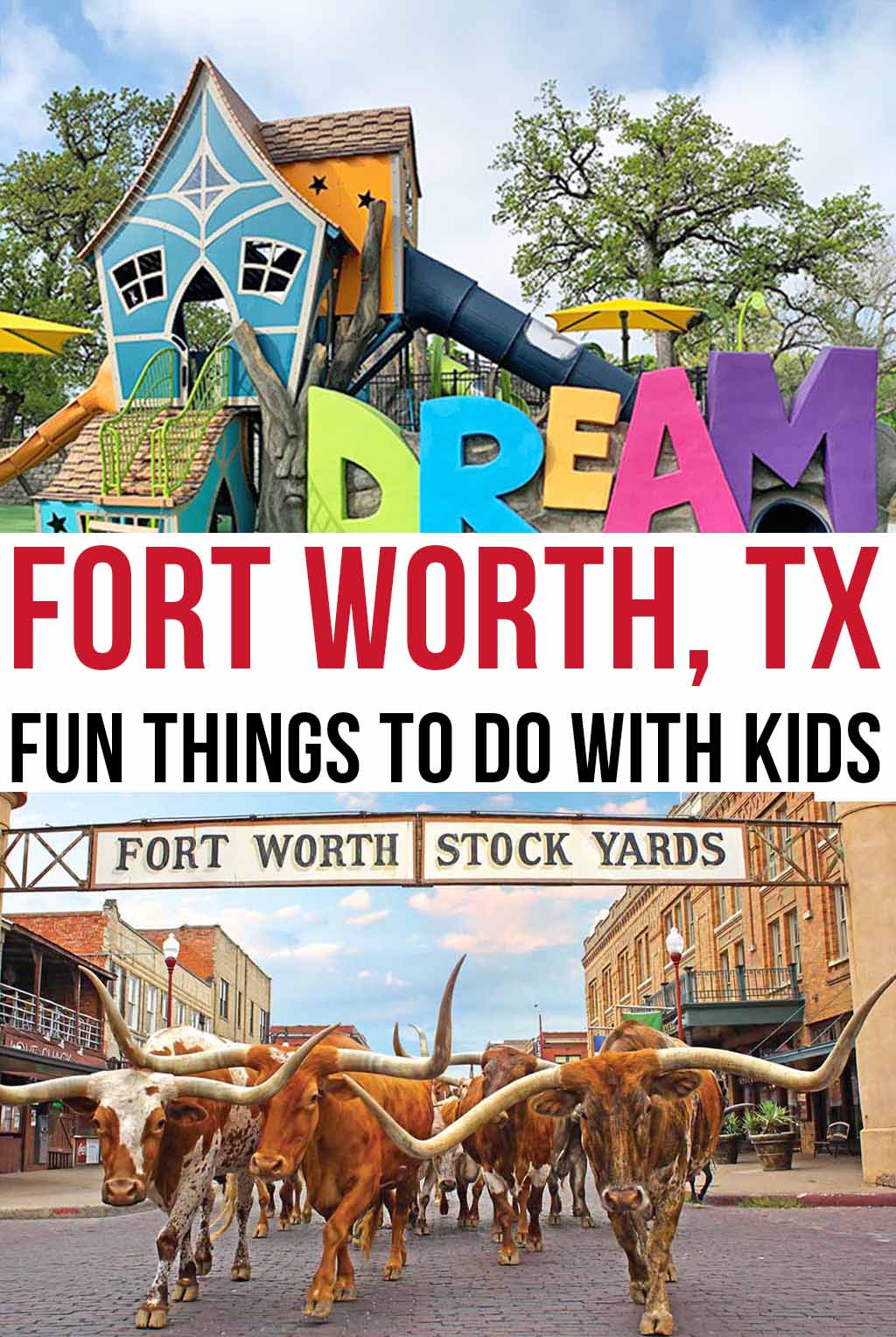 The activities around the city are endless! What you are your favorite kid-friendly things to do around Fort Worth?