Weatherford, Texas is the perfect location for a day trip from Fort Worth. This adorable town has everything from hiking, festivals, museums, shopping, unique restaurants, and more!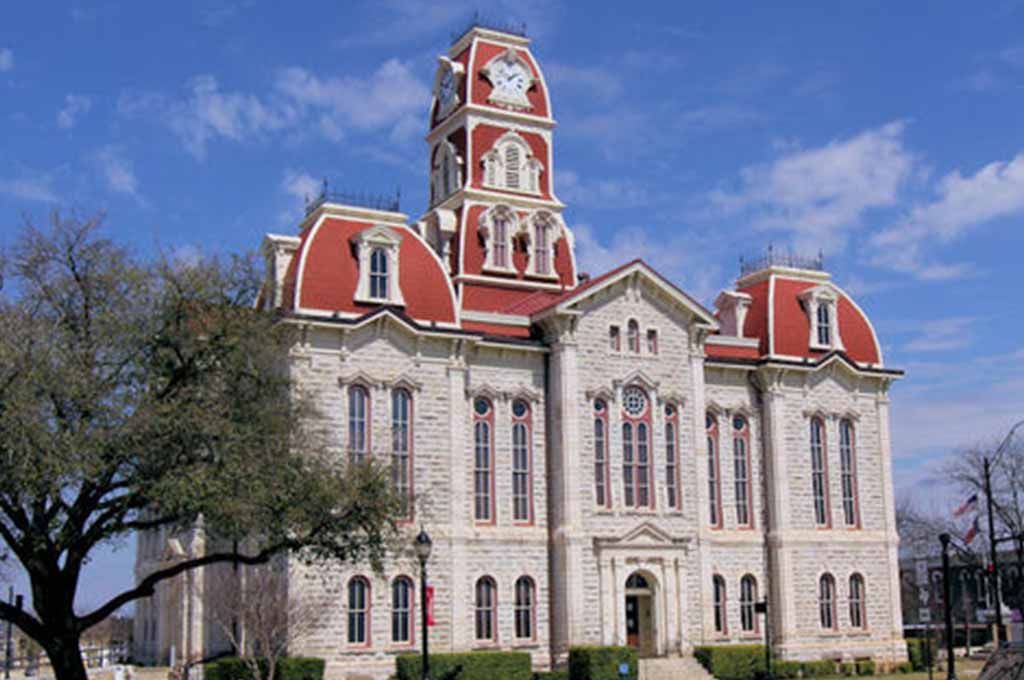 A short 20-minute drive from Fort Worth, you'll find this adorable town that is filled with beautiful scenery, rich history, outdoor adventures, local parks, and plenty of delicious food!
There are so many fun things to do in this Park County, Texas town, making it a fun day trip or a fun weekend getaway.
Weatherford was famous in the 19th century for cattle transportation on the Goodnight-Loving Trail. Which was the inspiration for the novel, Lonesome Dove.
READ NEXT: 17 Things to do in Palestine, TX
What to do in Weatherford
Below you will find the ultimate list of the best things to do in Weatherford. Spend a relaxing day with the entire family exploring this historic town.
Antebellum Ale House
Whether you are looking for a cold drink, tasty bites, or a great place to enjoy live music, Antebellum Ale House is the place to be!
Its tavern atmosphere, 45 draft beers on tap, delicious flatbread pizza and large patio make this a wonderful place to relax with friends.
Boardwalk at Lake Weatherford
The Boardwalk is home to the country's longest floating boardwalk. Visitors can fish, enjoy seeing the wildlife and relax on the benches throughout the walk.
The entire boardwalk and trail are 4,313 feet long, a little under a mile, making it an easy stroll with beautiful views.
Pack a picnic and enjoy eating while enjoying the views of the lake.
READ NEXT: Best Lakes in Dallas
Chandor Gardens
Located in Weatherford's Historic District, the garden features a mix of Chinese architecture and a formal English garden.
The estate is on 3.5-acres that has a 30-foot man-made waterfall, fountains, and gorgeous flowers.
Visitors can enjoy special events such as the Autumn Art Walk, Jack-O'-Lantern Nights, yoga classes, live outdoor concerts, and more.
Clark Gardens
Located on 50-acres, visitors can enjoy a self-guided tour of the gardens. The garden vegetation changes each season and features unique flowers throughout spring, summer, and fall.
Stroll along the pathways to enjoy the waterfalls, beautiful gardens, and birds throughout the park.
Downtown Weatherford
Downtown Weatherford features a beautiful courthouse in the middle of the square. On the square, you can enjoy the antiques, retail shopping, dining, and art, and learn about the city's history.
Throughout the year, downtown has special events such as the Bunny Bonanza, Celebration of Lights, Art Walk, Harvest Festival, and more!
READ NEXT: Best Flea Markets in Texas
First Monday Trade Days
Takes place each Friday, Saturday, and Sunday before the First Monday each month throughout the year.
This event has been going on since 1949 and has more than 500 vendor spaces. You can shop till you drop for everything from arts, crafts, antiques, collectibles, food, and more!
Full Cup Bookstore and Coffee Shop
Books AND Coffee? Sounds like the perfect place to start the morning.
This shop has a homey vibe, book-lined walls, and of course delicious coffee. Menu items include espresso, frappe, latte, cappuccino, Italian soda, and baked goods.
READ NEXT: Best Coffee Shops in Fort Worth
Funky Munky
Cool off from this Texas weather with some shaved ice at the Funky Munky!
With fun menu items like the Sugar Shack, Wedgie, Munky's Uncle, and Mt. Saint Sprinkles, this place is sure to bring a smile to your face. And don't worry, they also have sugar-free flavors for those looking for something delicious without all the calories.
Grand Adventure
Grand Adventure is your destination for go-karts, mini-golf, arcades, and virtual reality.
This family-friendly park is a great place to have some wild adventures outdoor. Be sure to come hungry and enjoy the pizza, chicken nugget hrs, and loaded tater tots.
Holland Lake Park
Owned by the City of Weatherford, this park is situated on 40 acres and offers plenty of outdoor fun for the entire family. It has over 1 mile of nature and concrete trails and four trailheads for the Town Creek Hike and Bike Trail.
Visitors can enjoy the softball field, stocked fishing ponds, playground, and shaded picnic pavilions.
Mesquite Pit
No texas adventure is complete unless you try out a new BBQ restaurant! Mesquite Pit serves up amazing BBQ fare, seafood, and grilled steaks. For an appetizer, I recommend trying the fried green tomatoes. So good!
Mineral Wells State Park
This park is a nature lover's paradise. The park has great fishing, campsites, geocaching, and miles of trails for hiking and biking.
Penitentiary Hollow is one of the few natural rock climbing venues in North Texas. Before starting your climb, check-in at headquarters.
The park has over 12 miles of trails that range from easy to difficult. The trails take you along the shore of Lake Mineral Wells, with sheer walls, scenic overlooks, grassland savanna, and wildlife viewing areas.
Entrance fees are $7 for adults and free for 12 years and younger.
READ NEXT: Best Hikes in Texas
Museum of the Americas
Visitors will learn the rich history of the Native Americans. The museum features artifacts, crafts, and folk art that were used in daily life, trade, and religious ceremonies.
National Vietnam War Museum
This is a great museum that honors the 5 million servicemen that served in the war, the Vietnamese people, their culture and history; and those on the home front, both those who supported and those who protested the war.
Outdoor exhibits include a Semper Fi Garden, Vietnam Memorial Garden, Contemplation Garden, Meditation Garden, and Rock Creek Trail.
Indoor exhibits feature a visitors center, southern airways exhibit, and hootch exhibit.
Parker County Courthouse
There is something about an adorable town square where the courthouse sits in the middle. Weatherford is such a town! Built in 1886, visitors can take a tour of this historic building.
Throughout the year the city hosts live performances, holiday displays, and an annual Christmas party each year.
Parker County Peach Festival
Takes place each year on the second Saturday in July. The festival features over 200 arts, and crafts, activity booths, live music, and food vendors. And of course, PEACHES!
Located in the town square, visitors can stroll downtown while shopping, listening to live music, and trying out all the peach-flavored treats.
Splash Kingdom Wild West
This Hudson Oak waterpark is a must-do during the summer. It features a lazy river, wave pool, waterslides, and the new WildRider (a FlowRider) for those that want to ride the waves.
Vintage Car Museum
Opened in 2016, this is a car lover's dream! Vintage car fanatic, Tom Moncrief devoted his life to collecting vintage cars.
His museum features over 15 automobiles and has a rotating collection of one-of-a-kind classic cars.
Weatherford Farmers Market
This open-air market features food vendors, produce stands, crafts, and yard art for sale.
What's great about this farmers' market is that the vendors focus on local and handmade products from around the area. Items change with the season, giving you more reasons to visit regularly.
Zeno's on the Square
A little taste of Italy in Weatherford! Popular dishes include Pasta di Casa, Chicken Napule, and Filetto al Barolo.
They also offer a wide variety of hand-picked Italian. If you are looking for a good date night, this is the restaurant to visit.