This is the ultimate guide to the best hotels, cabins, and All-Inclusive Resorts In Arkansas.
No matter if you are looking for a place to book a family vacation, a weekend getaway, or a couples retreat at one of the many luxury hotels, you'll find the perfect destination for every occasion.
Arkansas Resorts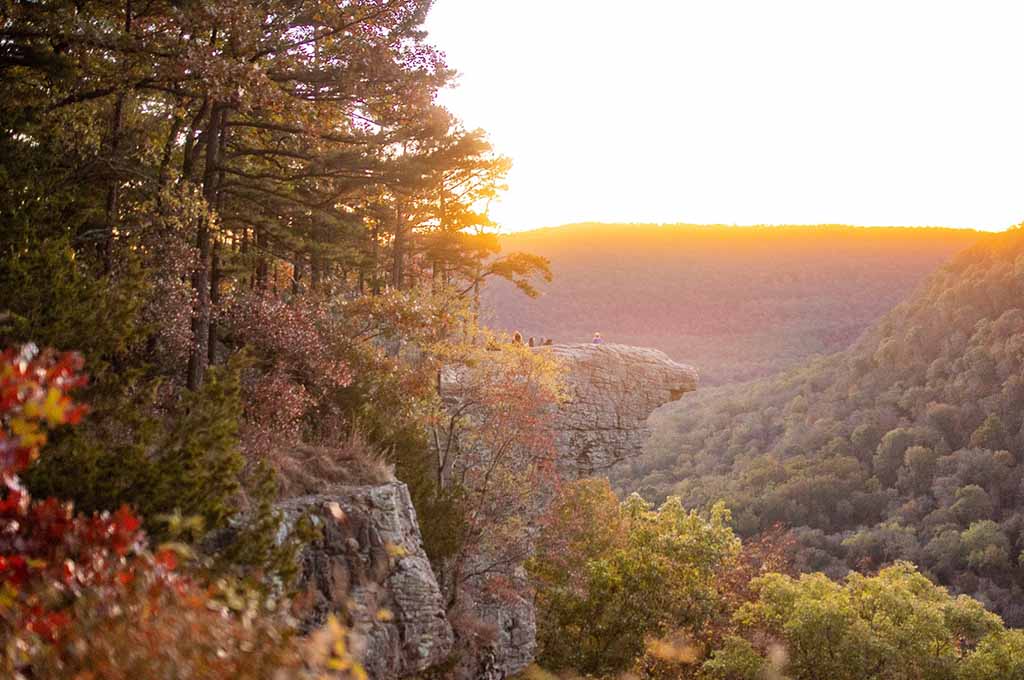 Arkansas is home to beautiful lakes, Ouachita National Forest, natural hot springs, Garvan Woodland Gardens, and other exciting outdoor adventures.
Arkansas Resort Hotels
1905 Basin Park Hotel
Located in Eureka Springs, Basin Park Hotel is one of the best places to stay in Arkansas. This full-service lodging offers a courtesy shuttle, complimentary parking, breakfast, a hot tub, and a sun deck.
The hotel also has an on-site spa, 2 bars, and a restaurant. If you are looking for something unique, then book a ghost tour! The Basin Park Ghost Tour takes guests on a haunted tour of the hotel and hear stories from investigators about the ghosts at the hotel.
21c Museum Hotel
Was voted the No. 1 Hot New Hotel in The United States by TripAdvisor, and is a hip and modern hotel. It's a luxury hotel, art gallery, and hip restaurant all rolled into one.
Guest rooms have it's art gallery, with custom-designed furniture, high ceilings, and modern designs.
Be sure to dine at The Hive, where the executive chef, Matthew McClure, was the winner of FOOD + WINE The People's Best New Chef Midwest.
The hotel also features over 12,000 square feet of art exhibition space, a 24-hour fitness center, laundry service, bike valet, storage and washing station, and a museum shop.
READ NEXT: Unique things to do while visiting Hot Springs
Arlington Resort, Hotel & Spa
This Hot Springs luxury resort is one of the best places to stay in the city. The historic hotel is the largest spa resort in Arkansas. Which is fitting as it sits on the famous Bathhouse Row.
Opened in 1875, the hotel features 500 rooms, full full-service spa, and a salon. The gorgeous resort also has an elegant dining area, bar, and Crystal Ballroom.
It's located just steps away from museums, restaurants, and art galleries. Live entertainment and Hot Springs National Park.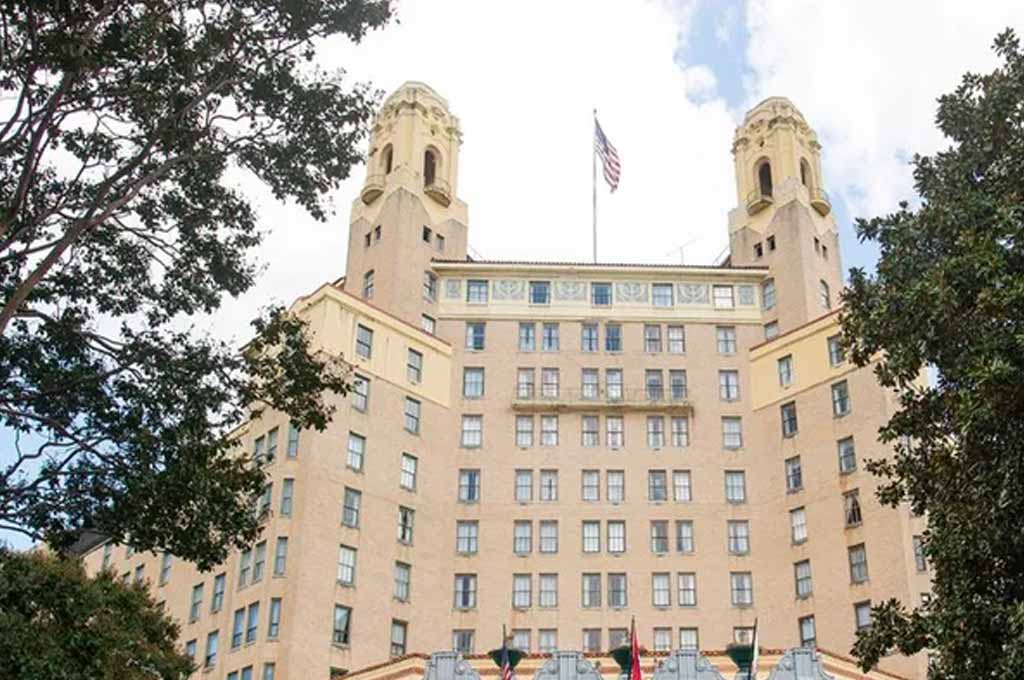 Beckham Creek Cave Lodge
The most unique place to stay in Arkansas. Nestled inside a natural cavern that overlooks a bluff in the Ozark Mountains is this four-bedroom resort.
This vacation rental features modern furniture, a gourmet kitchen, satellite TV, WiFi, and a waterfall in the living room. Guests can also enjoy a complimentary 6-seater guided UTV ride through the 256 private acres on the mountain.
Rates start at $2,200 per night with a two-night minimum.
Capital Hotel
This hotel is the perfect place for a romantic getaway. With its Southern charm and elegant style, this hotel is known as the "front porch of Little Rock."
Guests can enjoy fine dining at One Eleven or Capital Bar & Grill, followed by a nightcap at the Capital Wine Cellar. These restaurants are the perfect place to celebrate special events or a romantic date night.
Clarion Resort on The Lake
You can't beat the views of the Ouachita Mountains, outdoor pool on-site restaurants, and lake-view rooms at the Hot Springs resort.
It's a central location for exploring Hot Springs and coming back to relax at the end of the day. With the views and amenities makes this one of the best resorts in Arkansas.
DeGray Lake Resort State Park
This resort has a 90-room lodge, 3 yurts, and 113 campsites. It's the perfect place to plan your next vacation.
Amenities include an 18-hole disc golf course, two private beach areas; basketball and tennis courts; five hiking trails; a water trail for kayaks and canoes; and guided horseback riding with world-class mountain biking trails nearby.
READ NEXT: Best hikes in Hot Springs
Grand Central Hotel & Spa
Built-in 1883 as the FIRST brick hotel in Eureka Springs, The Grand Central is a historical and magnificent property nestled right in the heart of historic downtown.
The hotel is a central location for those wanting to see unique attractions hotel. A few of those are The Great Passion Play, Snake World, Quigley's Castle, zip lining, and hiking through the natural state.
Lake Forest Luxury Log Cabins
Nestled within the 14 acres of woodlands in the Ozark Mountains are the Eureka Springs Lake Forest Luxury Log Cabins.
It's situated near Beaver Lake, and the cabins are a great winter getaway. With wood-burning fireplaces, an outdoor jacuzzi, and a resort outdoor swimming pool will have you wishing you never had to leave.
Lindsey's Resort
Outdoor lovers will enjoy this full-service trout fishing lodge. It's located on the banks of the Little Red River near Greers Ferry Lake and features breathtaking views and the natural beauty of the Ozarks.
Guests can book a rugged log cabin with a jacuzzi and fireplace for a more romantic getaway.
Book a guided fishing tour or a party barge to enjoy time on the water. The resort not only offers fishing trips but also boat rentals and a bait shop making this one of the best fishing vacations in Arkansas.
The on-site Pot O' Gold restaurant is the perfect place to sit back and relax after a full day on the river.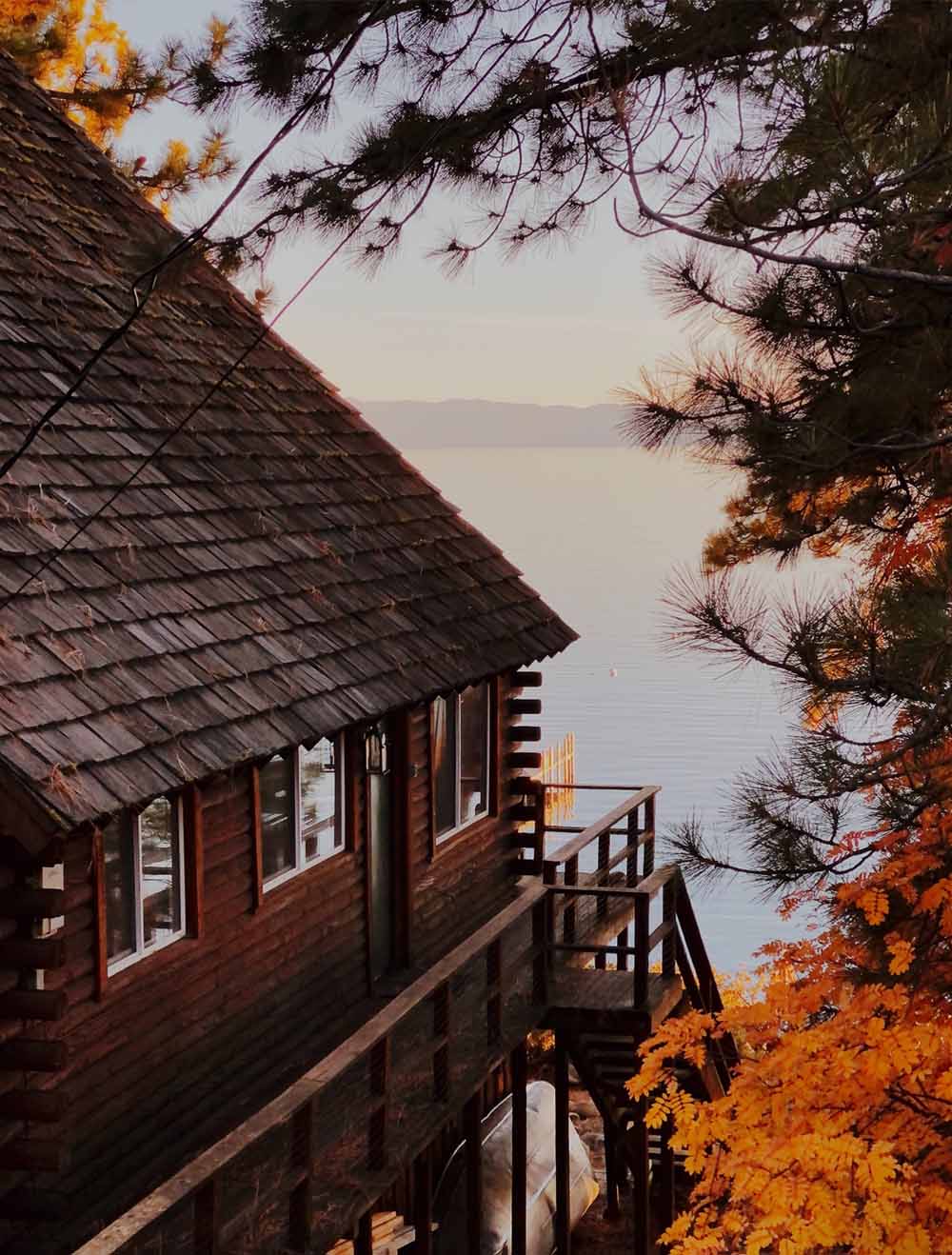 Little Rock Marriott
Located in the heart of downtown Little Rock, is this gorgeous modern hotel. Just steps from the excitement of the city and within walking distance of all the fun.
The hotel has gorgeous rooms, large workspaces, free Wi-Fi, room service, and a great dining option at Heritage Grille Steak and Fin Restaurant.
Lookout Point Lakeside Inn
Surrounded by the views of the Ouachita Mountains in Hot Springs is the romantic lakeside inn. Its breathtaking views of the bay, private whirlpools, waterfalls, hammocks, and fireplaces, make this the perfect place to relax.
Guests can enjoy in-room dining on the patio and an afternoon innkeeper reception that offers complimentary wine, tea, and desserts.
Mountain Harbor Resort & Spa
Mountain Harbor Resort & Spa is Arkansas' Premier lake resort which is nestled deep in the heart of the Ouachita Mountain range.
Guests can explore and rejuvenate while enjoying the 900 acres of the shops of Lake Ouachita. Guests can swim, rent boats, fish, bike, and hike while at the resort. After a long day in the outdoors, unwind with a massage at the Turtle Cove Spa.
Mountain Ranch Golf Club
Ranked the #1 resort golf course in the state of Arkansas. Guests can play a round at the 8-hole championship course and then head back to the resort to relax.
Guests can choose from condo rentals or home rentals that sleep up to 20 people.
Sugar Ridge Resort
Nestled between Beaver Lake and the historic town of Eureka Springs is one of Arkansas' more romantic resorts.
Located on 75 acres, guests can enjoy the hiking trails, lake access, private jacuzzi, and birdwatching.
The Burgundy Hotel
This boutique hotel is modern and gorgeous. It's located in the heart of Little Rock and is within walking distance of all the downtown attractions.
Guests can also choose to dine in at Table 28 or have it delivered to our room if going out isn't your style.
The Cinnamon Valley Resort
The resort has nine luxury cabins with spectacular views of the Ozark Mountains. Outside the cabins have you feeling like you are staying in a tree house, but on the inside is a complete luxury.
This is an adult-only resort, making it a wonderful romantic getaway. Guests can sit back and relax in the cabins or enjoy hiking through the trails, book a fishing or hunting guide, or a kayak trip along the river.
The Lodge at Mount Magazine
Overlooking the Petit Jean River Valley and Blue Mountain Lake, this resort mountain lodge offers 60 guest rooms with breathtaking views of the valley below.
The rustic-style lodge offers 60 guest rooms, a hearth room lobby, delicious classic Southern cuisine in The Skycrest Restaurant, a conference center, a business center, an indoor pool, a fitness center, and a gift shop.
Guests can enjoy all the natural beauty and fun activities that Mount Magazine State Park has to offer. Everything from horseback riding, ATV riding, mountain biking, hiking, rock climbing and hang gliding.
The Waters Hot Springs
The historic renovation of a revered building on Bathhouse Row has yielded a boutique hotel with vintage details and up-to-date comforts and amenities.
The hotel features a full-service restaurant and a lounge, The Avenue, which offers southern artisan-style cuisine using locally sourced food. A small sundry shop and the Blushed Beauty Boutique are onsite to enhance your experience for the ultimate in convenience.
Spend the day exploring Hot Springs and then come back to your luxurious guest room to relax.
The Wharf Resort
Located on Lake Hamilton at Hot Springs National Park, offers everything from a boat dock, swimming pool, tennis court, fishing, and gorgeous lake views.
Each condo has a 2-bedroom, 2-bath unit that features a private, oversized bath, a fireplace, a wet bar, and a private balcony with a view of the scenic beauty of the Ouachita Mountains.
The White River Inn
This is Arkansas's only Orvis-endorsed all-inclusive lodge. The experience includes first-class meals, beverages, and amazing fishing charters.
Guides on the fishing trips provide everything you need to have a successful and fun fly fishing trip. This is a unique experience that you don't want to miss out on.
Whispering Hills Cabins
A secluded getaway with views of Beaver Lake. All cabins feature a Jacuzzi tub, fireplace, a full kitchen, a king-size bed, bed linens and towels, hairdryers, a television on Dish Network, DVD players,(smart tv's) Wi-Fi, a charcoal grill, a private deck, and patio chairs.
Wyndham Resort at Fairfield Bay
Situated on the banks of Greers Ferry Lake in Fairfield Bay is a wonderful family-fun resort. The Ozark Mountain-themed lodging is spacious and a great place to unwind after a fun day outdoors.
This is one of the best family resorts in Arkansas. Each rental has spacious rooms, a full kitchen, modern amenities, a comfortable bed, flat-screen TV, and more.
Activities at the resort include tennis, golf, mini golf, BINGO, shuffleboard, eight swimming pools, restaurants, boat rentals, walking trails, and more.
Looking for other fun travel guides? Then you will enjoy these travel guides: Romantic Getaways in Indiana, Route 66 in Texas, and the best golf getaway.