The dinosaur capital of Texas has plenty of fun and odd adventures to keep you entertained all weekend. Everything from taking a safari to visiting the creation evidence museum.
Below you'll find the ultimate list of the best things to do in Glen Rose, TX.
Best things to do in Glen Rose, Texas
This quaint small town sits on the bank of the Paluxy River in Somervell County, and is about an hour outside of Fort Worth.
There are so many fun things to do in Glen Rose, making it the perfect weekend getaway.
The town has plenty of charm where visitors can enjoy the outdoor adventures, hiking to a waterfall, antique shopping around the 1893 county courthouse, and staying in one of the many adorable cabins and historic buildings scattered throughout the town.
Glen Rose, TX Things To Do
This adorable town is a short drive from Dallas, making it an easy destination from the metroplex.
Barnard's Mill and Art Museum
This was first permanent structure in Glen Rose owned by Charles Barnard and began as a water-powered gristmill in 1860. It has also been a cotton gin, health spa, hospital and now as the Barnard Mill and art museum.
The museum is open on Saturday and Sundays.
Brazos Drive in
This family owned drive in has been in operation since 1952! It features a single-screen and has on-site concessions. So pack up your vehicle grab your hot date or family members and enjoy this classic movie tradition.
Creation Evidence Museum
The purpose of the museum is to research evidence and displaying exhibits that support the Biblical creation.
This is a creation museum that focuses on the education of children about the scientific and Biblical principles of our earth, as opposed to the evolutionary theory that is taught in the public school system.
They also have a 25 foot detailed replica of Noah's Ark which is amazing!
Dinosaur Valley State Park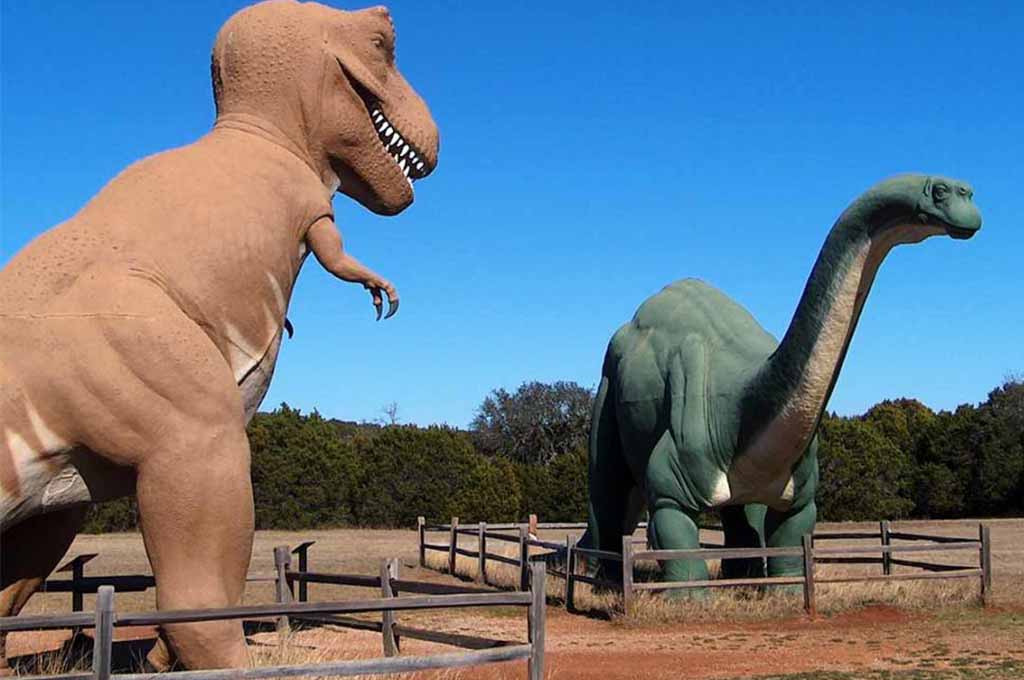 This 1,524-acre beautiful park lets you explore nature and search for dinosaur tracks on the trails is one of the best attractions in Glen Rose, TX.
This is a favorite park for kids and adults. When the river is low you can see dinosaur prints at several locations throughout the park.
Adults are $7 and free for those under 12. This park is great for those looking to spend a full day in nature.
There is everything to do from hiking, picnic, biking, swim, rent a kayak, or taking a trail ride on horseback.
Dinosaur World
No visit to the Dinosaur Capital of Texas is complete without a visit to Dinosaur World.
This is a must see adventure for the dinosaur enthusiast. The park features overs 100 life size dinosaurs, interactive boneyard, skeletal playground and museum.
The museum features dinosaur claws, eggs, mammoth bones and more. Kids can also become archeologist and at the fossil dig and dino gem excavation site.
The park is open daily from 9 am – 5 pm. There is no on-site dining, but guests are encouraged to bring a picnic lunch.
Fossil Rim Wildlife Center
This is probably my sons favorite attraction in all of Texas. Located in Somervell County, near Glen Rose, Fossil Rim Wildlife Center is one the best day trips in Texas that offers a safari experience like no other.
This Texas size safari makes you feel like you are on a different continent. Located on 1,700 acres and is the habitat for over 1,000 animals that exotic, endangered species and native to Texas.
Guests can drive their own vehicle or take a guided tour for the seven-mile drive. Fossil Rim Wildlife Center also dine at the Overlook Cafe, shop in the gift shop and enjoy the scenic overlook.
A lodge and cabins are available to book for overnight stays. Include is the room, breakfast and entrance to scenic drive.
GOAT Ranch
Looking for something fun and unique to do in Glen Rose, then head to the greatest of all time ranch. The GOAT Ranch is a working goat ranch that raises Boer and Nigerian dwarf goats.
From April through October, guests can enjoy a light yoga session with the goats.
Guests will be in a pen with baby goats as they take the 40-minute yoga class. If goat yoga isn't your thing, then you can enjoy a tour of the 850 acre ranch.
Enjoy a guided tour from an ATV where you will ride around to see the barn, fields, goats and chance to bottle feed the baby goats.
The Promise
This unique show is preformed in an outdoor amphitheater atop a hill in Smervell County. This musical depicts Christ's life and features live animals, 200 actors and has seating for over 3,000.
The show runs from the beginning of September through October.
Squaw Valley Golf Course
Hit the links at Squaw Valley Golf Course. Squaw Valley features two 18-hole championship courses — Comanche Lakes Course and Apache Links Course. It also has a pro shop, restaurant, membership and leagues.
Free Things to do in Glen Rose
Paluxy River Walk & Heritage Park
This picturesque park sits on the banks of the Paluxy River that features paved walking trails, picnic area, playground and log cabin built in 1860's.
It's located just a few blocks from the town square and a perfect park to enjoy with the family.
Big Rocks Park
Located on the Paluxy River, Big Rocks Park has large rocks scattered on the river. This is the perfect place to cool off in the summer. Well that is when Texas isn't in a drought.
Visitors come from all over to climb on the rocks and it makes for great photos.
This is a great place to bring a picnic lunch and enjoy with the family. It's a free park with plenty of parking at the entrance.
Somervell County Museum
The Somervell County Museum opened in 1965. Inside the historic building, guests can enjoy viewing everything from a barbed wire collection, antique arrowheads, wooden leg, weaving loom, printing press, Civil War uniform and more.
Located outside the museum, guests can view the smallest US Post Office that was built in 1901.
Wheeler Branch Reservoir Park
Grab your fishing pole and pack a picnic for a day at the lake. No gas powered boats are allowed. Guests can enjoy the picnic tables, showers, swimming beach, diving platform and scenic views.
Outlaw Station / Old Rock Gas Station
Anyone else feel the need to stop at quirky roadside attractions when traveling? Then this is place to stop, get a photo and stretch your legs.
This petrified wood building was a speakeasy built in 1928, back when Glen Rose was dubbed the moonshine capital of Texas! After prohibition the building was turned into a gas station and grocery store.
Where to stay in Glen Rose
High Hope Ranch
We spent a weekend at Mata'Zamo which means Far and Away. This is a remote home on the ranch with sweeping views from the 2nd floor patio. The ranch also offers over 20 miles of hiking trails.
This is truly a unique lodging experience and the perfect place to get away from city life, but while enjoying the luxury of the lodge.
Rough Creek Lodge and Resort
This resort is a bit on the pricey side, but is worth the expense. It's nestled on 11,000 acres and has it all. Guests can book a room in the main lodge, one of the quant individual cabins or a spacious home.
Included in your stay guests can enjoy the biplane, climbing wall, largest maze in Texas, fishing boat, bating cage, kid's ranch, s'mores, fossil hunting, outdoor games, hayrides, live music, rocket launching, archery and more. As well as an award winning restaurant.
Oakdale Park
This laid back park offers 120 RV spaces with full hook-ups, cabins, bunkhouses, bathhouses, playground event center, picnic areas, outdoor stage and large swimming pool that is open to the public.
It was originally opened in 1925 as campground and motor court with the largest swimming pool in Texas at the time.
Where to eat in Glen Rose
Pie Peddlers
No trip to Glen Rose is complete until you enjoy a slice of pie at Pie Peddlers. Pie selections include everything from apple, chocolate, coconut, key lime and flavor of the month. You can purchase whole pies, mini pie or by the slice.
Sexton Mill
A mix of Tex-Mex and barbecue, there is something on the menu that everyone will enjoy. This open-air restaurant is on the banks of the Paluxy River with fun activities for guests. After dinner you hang out to play pool, video games or ax throwing.
Shoo-Fly Soda Shop
Take a step back in time and dine at Shoo-Fly. Guests can sit at the counter and enjoy lunch and dinner or a milkshake. After dining check out the shop which offers a wide variety of candy, gifts, and clothing.
Storiebook Cafe
Part bookstore, part cafe. The Storiebook Café offers a variety of sandwiches, soups, and pasta, along with daily specials. What I love so much about this cafe is that they have a playroom for children.
The kids can play with the toys, read book or play dress up. It certainly makes dining out easier when you have young kids.