Hiking Grand Teton National Park is absolutely amazing. Whether you are looking for a short, easy hike or an all day adventure, this national park has it all.
The moment we landed at Jackson Hole airport I fell in love with the Grand Tetons.
With gorgeous mountain peaks, winding Snaking River, hiking trails and historical sites, Grand Teton National Park has it all.
It's the perfect vacation for families looking for a fun adventure with awesome scenery.
READ NEXT: Things to do in Moab, Utah
About Grand Teton National Park
Grand Teton National Park
Grand Teton National Park became the 20th national park in 1929 and has over 200 miles of hiking trails. It sits just 10 miles south of Yellowstone National Park. Check out this 2 day itinerary.
This famous mountain range gets it's name from a 19th century French trappers. They called them les trots tetons which means "the three teats."
The park has numerous glacier fed lakes. Some you have to hike several miles to reach.
Things to do in Grand Teton National Park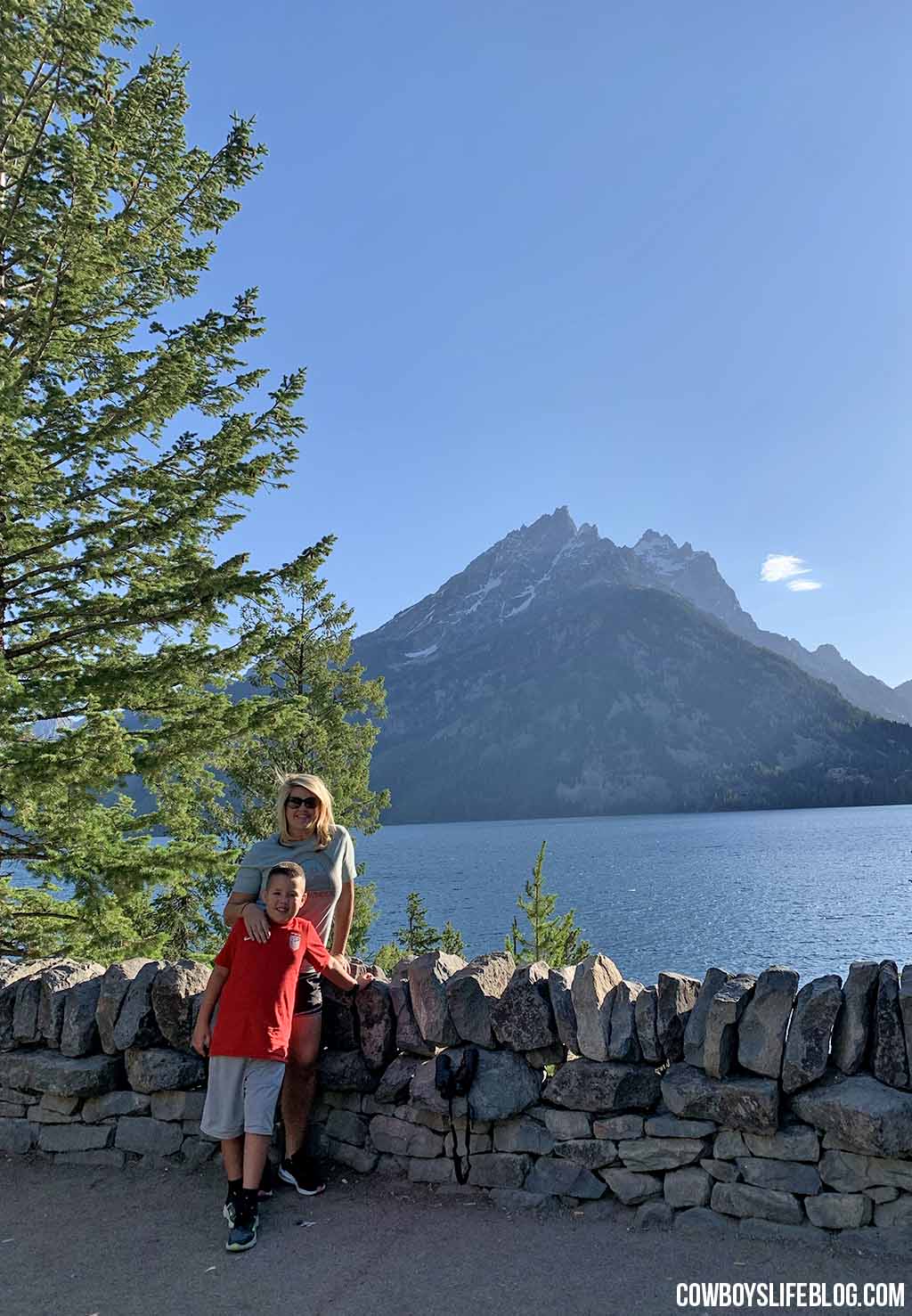 Drive the 42 mile scenic drive
Drive the length of the Teton mountain range. I suggest a detour and take the Jenny Lake Scenic Drive. Stop and get a photo overlooking the lake.
Jenny Lake Scenic Drive

This one-way road runs along the edge of Jenny Lake. Jenny Lake overlook has the best view of the lake. There are only about 10 parking spots, but it's worth going at sunset if you can snag a spot.
Inspiration Point

Take a boat ride across Jenny Lake, which will save you about a 2 mile hike. The shuttle runs every 10 minutes and cost $18 round trip or $10 one-way.
From the boat dock on the western side of the lake it's a 1/2 mile walk to Hidden Falls. From there, hike up to Inspiration Point.
The trail is a bit sleep and narrow at one section. But it's worth the climb and you can see why this is one of the most popular trails in the park.
String Lake

This is an easy & relaxing hike. Perfect for those who don't want much elevation change. Give yourself about 2 hours to make a complete loop around the lake.
Colter Bay
This popular area is only about a 20 minute drive to Yellowstone. It has a visitor center, gas station, cabins and several hiking trails.
After a morning of hiking head to the beach. This glacier lake has chilly water, but so refreshing! It's also a great place to launch your canoe or SUP.
Mormon Row Historic District
In 1890, Mormons established 27 homesteads. And in 1997 was added to the National Register of Historic Places.
Located across from Antelope Flats Road is the iconic T.A. Moulton Barn. This is perfect spot to watch the sun set and photo opportunity with this historic barn.
Be sure to watch where you step! There are a ridiculous amount of prairie dogs that make large burrows all around this area.
Tips when visiting Grand Teton National Park
Entrance Fee – $35 per vehicle each day or purchase the America the Beautiful Annual National ParKs pass for $80.
Packing – Hiking boots to keep feeling sturdy and dry. During the summer, the park is chilly during the early mornings and at night. A light jacket is a must.
Parking – The Grand Tetons is a large national park, but limited on parking. The busy hiking trails such as Jenny Lake, String Lake and Taggart Lake parking lots fill up early in the day. Some places will let you park on the side of the main road while others will have the grass blocked and you'll be denied entrance.
So prepare to get there early (before 9) or come back after 4 p.m.
Pack plenty of food – Restaurants are limited inside the park, so it's best to pack a cooler with food for the day. Remember to be bear aware and not to leave any open containers of food.
A Cowboy's Life is all about finding Joy in the Everyday! I enjoy sharing fun dinner recipes, family travel ideas and outdoor adventures to explore with your family.