A national forest, art galleries, craft breweries, shopping, and festivals are what make Conroe, Texas such a fun town. Below you'll find the ultimate list of the best things to in Conroe.
Conroe is only 45 minutes outside of Houston and is the perfect spot for a day trip. There is so much to see, explore and enjoy plenty of outdoor activities that you could easily spend a long weekend here while never having a dull moment.
RELATED: Things to do in Wichita Falls
Things to do in Conroe, TX this weekend
Margaritaville Lake Resort
Grab your flip-flops and enjoy the island life. Well, at least feel like you are on a tropical island. The resort has a luxury hotel and waterfront cottages to chose from. Guest have an endless array of amenities to keep them entertained. Everything from golf, day spa, water park, boat rentals, pickleball, tennis courts, mini-golf, and fitness center. There are also six dining establishments on the property.
7 Acre Wood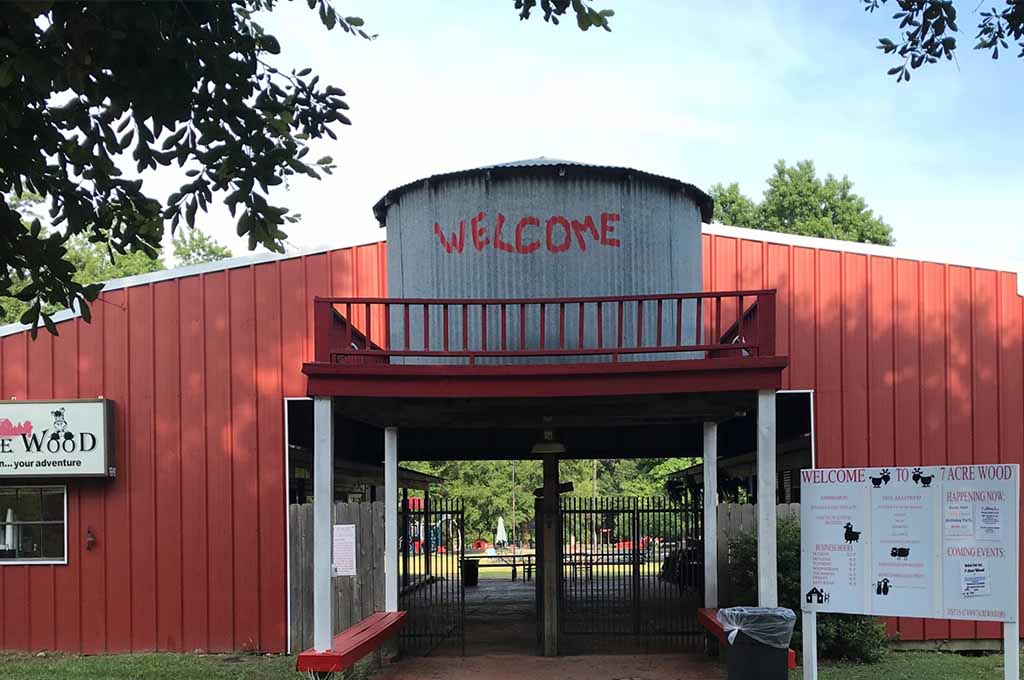 If you are looking for some old-fashioned family fun, then head to 7 Acre Wood. Included in the $6.50 admission fee, guests can visit the petting zoo, mini-golf course, western play town, playground, gigantic sandbox, zip line, horseshoes, picnic areas, and more! On Weekends the park offers $5 pony rides and $3 barrel train rides. This is a fun park that the whole family will enjoy.
Candy Cane Park
This city park has it all. It is the perfect place to enjoy a family picnic and has basketball courts, tennis courts, play structures, a jogging trail, and the Conroe Aquatic Center that has two large pools, water slides, splash pad, and other water features.
RELATED: The best things to do in McAllen, TX
Sam Houston National Forest
One of four national forests in Texas and is located on over 163,000 acres. It spans over 3 counties and is intermingled with privately owned timberlands and small farms. One of the best ways to explore the forest is hiking on the 128-mile Lone Star Hiking Trail. The national forest is broken up into different recreational areas and activities vary between each area. Guest can camp, hunt, fish, hike, bike, and just about any outdoor activity you want!
Heritage Museum of Montgomery County
Housed in a historical home, features exhibits on the county's development and displays documents tracing the design of the Lone Star Flag. The museum offers traveling exhibitions, special events, and a hands-on children's room.
Crighton Theatre
The Crighton Theatre is a truly historic theatre built in 1934 and is the home base for several theater companies including the Sounds of Texas Music series.
RELATED: Best things to do in Odessa, TX
Campobella Bronze Fine Art Studio and Gallery
Across the street from the historic Crighton Theatre. A working bronze sculpture studio and gallery exclusively featuring the figurative and representational work of award-winning sculptor Craig Campobella.
Moorhead's Blueberry Farm
Blueberry picking season is fun and something you don't want to miss! This upick blueberry farm is open Friday-Sunday from 6:30 am – 8:30 pm during the season. With over 20 varieties of blueberries to pick, bring your bucket and get ready to make your favorite dessert with this fresh produce.
Southern Star Brewing Company
Take a free tour on Saturday of how this company makes their craft beer. They have a wide assortment of seasonal and year-round beers. Southern Star Brewery is the first craft brewery to offer canned beer in Texas. The tasting room is open Friday and Saturdays.
B-52 Brewing Company
Grab a craft beer and head outside for some outdoor games such as ping pong and corn hole. Saturdays they offer brewery tours and tastings.
Lonestar Monument and Historic Flag Park
This outdoor museum features 13 of the flags flown above this great state. The 13 flags have been chosen to represent the number of colonies in Texas at the time of its independence and the number of days the siege of the Alamo lasted. The park also features 2 bronze statues from a local artist.
Historic Downtown Conroe
Step back into the oil and timber boomtown days of Conroe's origin in Historic Downtown Conroe. Explore antiques at Conroe Central Market and Mimi's on Main. Enjoy Conroe's cultural side via gallery exhibits at one of downtown's three art galleries. Downtown has plenty of boutique shops, great dining options, ice cream parlors, and gorgeous historic buildings.
Lake Conroe Park
This 13-acre park offers picnic tables & BBQ pits, plus fishing piers & a roped-off swimming area. Additional amenities include a covered pavilion available for rent, a softball field, and volleyball areas. Open Tuesday – Sunday from 9:30 am – Dusk and admission are $5 per person.
W. Goodrich Jones State Forest
This 1,722-acre state forest has everything from birdwatching, hiking, horseback riding, biking, and plenty of wildlife viewing. Open year-round and admission is free.
Owen Theatre
Built-in 1946, this 250-seat theater is located in downtown Conroe. It's home of The Players Theatre Company, which is the oldest community theatre company in Texas history. Be sure to check the website for upcoming musical and play showtimes.
Dosey Doe
They offer two venues that feature live music. The Barn hosts big, nationally tourist artists, and Music Cafe features a variety of performers in an intimate setting where guests can order food.
Legends Paintball
A premier park dedicated to fun and safety, Legends Paintball has 6 courses on 12 acres of land. Features include 'painless' paintball, challenging courses such as Legends Tactical, and much more.
Cajun Catfish Festival
The festival takes place the second weekend in October in Downtown Conroe. The festival has taken place since 1990 where guests can dine on catfish, fried food, listen to live music, and enjoy carnival rides.
Montgomery County Fair and Rodeo
This has been a Texas tradition since 1957 and takes place at the end of March and into early April. The event has everything from a BBQ cook-off, concerts, youth rodeo, professional rodeo, petting zoo, and a carnival.