This West Texas town offers visitors plenty of unique activities the entire family will enjoy. Below you'll find the ultimate list of the best things to do in Odessa, TX.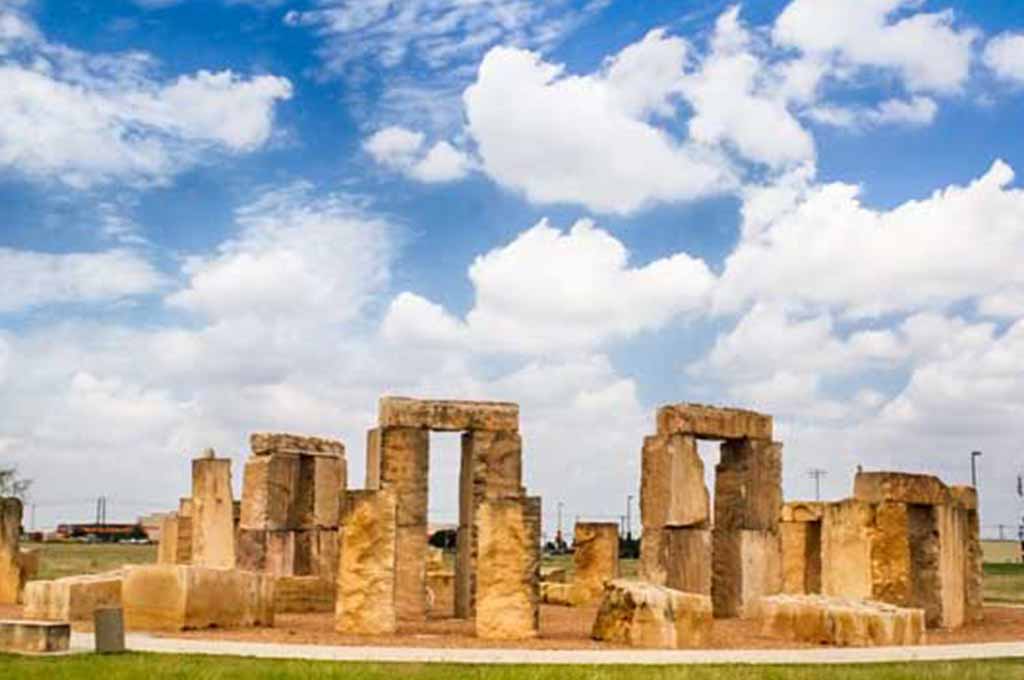 The city of Odessa and the surrounding areas is the perfect destination for a road trip the whole family will enjoy.
With endless places to entertain the kids, unique attractions, and plenty of wide-open space to explore, this is the perfect getaway.
The Odessa area is a great place to stop when traveling towards Alpine, Marfa, El Paso, or Big Bend National Park.
When it comes to West Texas, most people think of oil derricks, tumbleweeds, and high school football.
While they aren't wrong, there are plenty of places for the entire family to explore that are unique to this part of the state.
RELATED: Best Free Things to do in Galveston
The town is surrounded by beautiful views, a desert landscape, and oil derricks in the fields. It offers plenty of outdoor adventures, museums, parks, and statues to explore while visiting.
Top Things to do in Odessa, TX
Stonehenge replica
The University of Texas of the Permian Basin Stonehenge only took 6 weeks to construct while the original Stonehenge took 2,000 years to complete.
Made of limestone slabs up to 19 feet tall and 20 tons apiece, this replica is slightly shorter than the original, but it's exact in horizontal size and astronomically accurate.
Presidential Archive and Leadership Library
The library, located on the campus of the University of Texas of the Permian Basin, offers a thorough collection of presidential portraits, campaign materials, documents, and collectibles.
In addition to the museum, the archives consist of the John Ben Sheppard, Jr. Memorial Library, which contains around 5800 volumes, including presidential papers and rare and first edition documents.
Jurassic Jungle
The Junior League Jurassic Jungle is a dinosaur-themed spray-ground featuring water slides, dumping buckets, ground geysers, and jets located on the University of Texas of the Permian Basin.
It's also the largest in West Texas and is an oasis for the kids during the hot summer months.
Sherwood Family Aquatic Center
This a great family-friendly community pool. It offers big slides for older kids & adults, a dedicated area for young children, picnic tables, a concession stand, themed pool parties, and dive-in movies.
Odessa Meteor Crater
This is one of three impact crater sites that have been found in Texas. At one point the crater was 100 feet deep, but due to the insane West Texas wind, it is now only 15 feet deep.
The crater is free to visit and has an adjacent museum that sells fragments of the meteor based on weight.
Monahans Sandhills State Park
Located about 30 miles southwest of Odessa, you'll find the 3,840-acre state park. Situated in the Chihuahuan Desert, the sand dunes can be an absolute scorcher during the summer months.
When entering the park, be sure to stop at the visitors center for your parking permit and to rent san disks. This is one of the few places for sand dune surfing in Texas and it's so much fun.
The park offers a campground, visitor center, and an 800-acre equestrian area.
Altitude Trampoline Park
The perfect spot to let the kids burn off some energy! This indoor trampoline park has designated areas for dodgeball, foam pit, area for younger kids, battle beam, Rockwell, trapeze swing, and more.
Permian Playhouse
Located next to the Ector County Coliseum, this community theater provides culturally diverse theatrical performances.
The Globe of the Great Southwest
This replica of William Shakespeare's Globe Theater is located on the Odessa College campus. The theater has 441 seats, unobstructed balcony views and guests can get buy tickets for everything from the classic Romeo and Juliets to modern Broadway shows.
Ellen Noël Art Museum
This is one of the few art museums in Texas with a status as an official Smithsonian Affiliate, which gives it the privilege to host various Smithsonian artwork and programs throughout the year.
The sculpture & sensory garden features raised bed with plants and flowers that are accessible for everyone.
Wagner Noël Performing Arts Center
The perfect place to enjoy world-class entertainment. Check the venue's website to purchase tickets for everything from lectures, symphonies, musical performances, and concerts.
The Midland-Odessa Symphony & Chorale presents symphonic, choral, and chamber music performances. Also offers education programs to the community.
White-Pool House
This is the oldest remaining structure in Odessa and was built in 1887. It's a two-story red brick home that features a water tank, Eclipse windmill, outbuildings, and barn replica.
It is part of the National Register of Historic Places and a Texas Archaeological Landmark.
Permian High School and Ratliff Stadium
The book Friday Night Lights: A Town, a Team, and a Dream are about the 1988 Permian High School Panthers football team and life in Odessa.
The book was then made into a movie and later a tv show. Clear Eyes Full Hearts Can't Lose!
If visiting during the fall, stop by the large stadium, catch a game and see what the MOJO is all about.
Museum of the Southwest
The museum inspires exploration and interaction with the arts, science, history, and culture. You can check out the permanent collections, art galleries, sculpture garden, and watch a movie in the dome theater.
Jack Ben Rabbit
There are 32 jackrabbits scattered throughout the town of Odessa. The largest, Jack Ben Rabbit, is located at 802 N. Houston and is a great place to get a selfie with the famed statue.
Permian Basin Petroleum Museum
View exhibits of large drilling and production equipment in a 40-acre outdoor setting known as The Oil Patch. Then head inside the museum building, including paintings and interactive exhibits.
New exhibits include the Mythcracker Theater, Formation and Discovery, Soar into the Future, and other exhibits that tell the story of the Permian Basin oil industry in new engaging, and exciting ways.
Mckinney Park
Mckinney Park is a large, outdoor recreational and sporting park. It features courts and fields for baseball, soccer, basketball, tennis, and volleyball, a disc golf course, a playground for kids, and hiking and biking trails.
READ NEXT: Best Texas Road Side Attractions
How to get to Odessa, TX
Where is Odessa?
Odessa is nestled in West Texas in the Permian Basin. It's the halfway point between Dallas/Fort Worth and El Paso.
Seeing that West Texas is expansive and not many large towns, Odessa is the destination for breaking up the trip to El Paso.
How to get to Odessa
Visitors can fly into the Midland International Air and Space Port (MAF) through American Airlines, Southwest, and United.
The drive from Fort Worth takes about 6 hours and from Odessa to El Paso is 4 hours.
It's a drive no matter which direction you are coming from. But it's a destination everyone needs to visit at least once in their life.
With unique attractions and a blend of nature and city, it's easy to see why Odessa, Texas is a must-visit vacation destination!