We all know the old saying that everything is bigger in Texas. Well, it's even true when it comes to shopping! Texas is home to some of the best and biggest flea markets in the country.
There are hundreds if not thousands of flea markets scattered across the state. They range from low-key markets that happen every weekend, to massive yearly markets to some that are so large they span across multiple cities.
So if you are on a Texas road trip, looking for a day trip from Austin, or simply wanting a unique place to shop, then these flea markets are the place to go.
It's no wonder that the Lone Star State is one of the most popular flea market destinations in the United States!
The ultimate list of the best flea markets near you
77 Flea Market – Brownsville
Open every weekend rain or shine. Parking and admission are free but go early to find a parking spot.
They have plenty of delicious food vendors, farmer market goods, antiques, and plenty of unique crafts.
Alamo Marketplace – San Antonio
The Highway 90 Flea Market is a throwback. Vendors include old-school video games, comic book stands, antique toys in mint condition, and more.
READ NEXT: Day trip to San Antonio
Austin Country Flea – Austin
This flea market was once featured on the Travel Channel as one of the best flea markets in the country. However, in recent years it hasn't been as great.
But no worries, if you are looking for a diamond in the rough, look long enough and you'll find it!
This is a cash-only market, so be sure to hit up the bank before you head out to shop.
READ NEXT: Day trips from Austin
Buffalo Gap Flea Market – Buffalo Gap
This outdoor market has everything from backyard chickens, handmade crafts, antiques, and everything in between.
It happens on the third Saturday of the month and vendors vary month to month.
Bussey's Flea Market – Schertz
This large antique fair has over 500 vendors. The most popular booths are phonographs, booksellers, and record vendors. This market offers both antique and new items.
Parking is only $1. The flea market is open every weekend of the year, but the sweltering summer months may not be the best time of year to go. It can be miserable!
City Wide Garage Sale – Austin
This air-conditioned flea market is the perfect spot to browse during the summer. The $6 entrance fee and $8 parking is well worth it to be able to shop in air conditioning during the hot months.
This indoor flea market is for those looking for unique items and antique goods you can't find anywhere else.
READ NEXT: Best Things to do in Marble Falls
Trade Days Near Me

First Monday Trade Days – Canton
This east Texas trade day is one of the oldest flea markets. It's been around for over 150 years and tourists flock to this small town every month in hopes to find the perfect one-of-a-kind item.
This is truly an open-air bargain hunters' paradise!
Taking place Thursday through Sunday before the first Monday of each month. Thousands of vendors set up on over 100 acres making this a shopping paradise with furniture, crafts, antiques, collectibles, food trucks, fresh produce and so much more.
READ NEXT: Where to stay in Canton
Pasadena Indoor Flea Market – Pasadena
Open on Friday – Sunday, this indoor market has mostly new items.
If you are looking for car stereo parts, tools, toys, or work uniforms then this is the place for you.
Marketplace – Austin
This indoor market offers it all. You can shop the flea market, get a tattoo and purchase a formal dress.
It's typically overcrowded on Sundays, but if you like to haggle the prices then it's worth the shopping on the busiest day.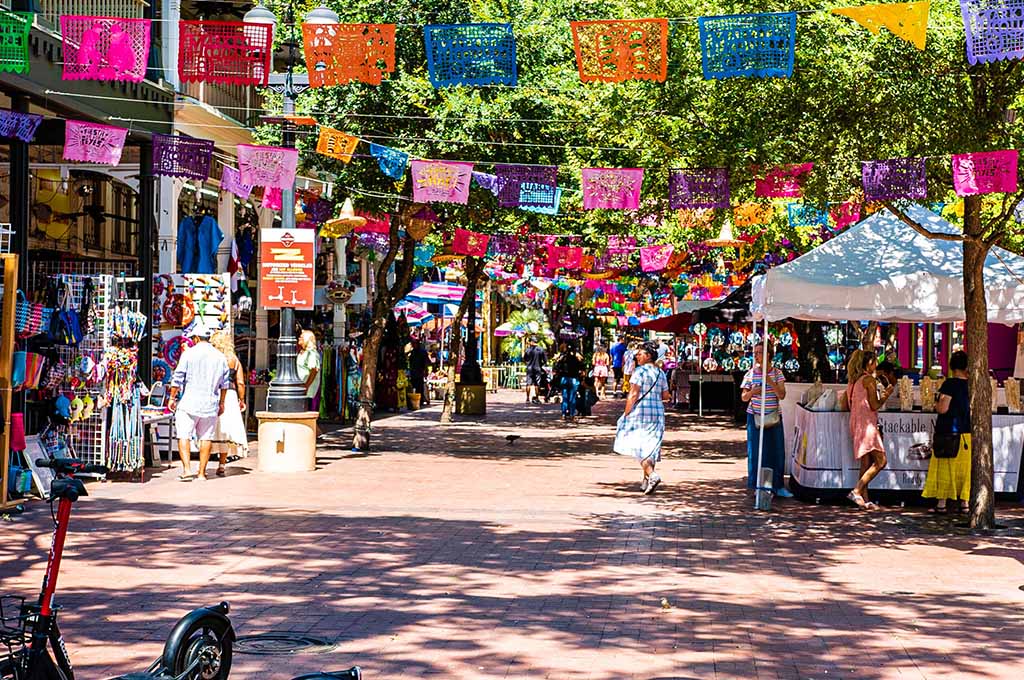 Market Square – San Antonio
Taking over three city blocks, the plaza is lined with restaurants and shops. It's an excellent outdoor market and a fun experience.
Local vendors sell handmade crafts, pottery, clothes, and more. Entertainment includes mariachis band, dancers, and performers. It's a destination in itself!
Original Round Top Antiques Fair – Round Top
This antique fair has been going on for over 50 years. Round Top is an adorable, sleepy little town. Except for a few weeks out of the year when visitors from all over the world come to shop. It's an antique shop you don't want to miss!
Shoppers can find everything from American & European furniture, victorian items, high-quality antiques, and vintage pieces from across the globe.
What's unique about Round Top is that they only offer 100% antiques and vintage with no new items and no reproductions. It's for the serious shopper and so much fun.
READ NEXT: Weekend Guide to Fredericksburg, TX
Sunny Flea Market – Houston
This unique market will have you feeling like you are shopping south of the border.
The narrow aisles and large crowds in upwards of 50,000 can be overwhelming. But stick with it and you will find some great deals.
Be sure to bring cash as credit cards are not accepted. Oh and be sure to bring your appetite. This fair offers the best food!
Texas Antique Weekend – Fayetteville to Carmine
This event takes place twice a year and brings in over 100,000 people. Because it does span across several cities, you will need to drive about 25 miles to reach all the shops.
The two-week flea market is held each fall and spring. It features over 2,000 different vendors located in over 60 locations.
Shoppers are bound to find the perfect antiques, collectibles, and crafts at one of the many shopping sites. It's best to book hotels reservations in advance as they do sell out quickly.
READ NEXT: Fun at North Texas Jellystone Park
Trader's Village – Grand Prairie
Shop from over 3, 000 vendors at the largest outdoor market in the DFW area and enjoy family events, live music, and food festivals. Free admission.
You can find mattresses, cookware, luggage, appliances, leather goods, western wear, furniture, 4-wheelers to crafts & antiques. This is a great place to spend the entire day with the family.
Buy an all-day ride wristband for only $13.99. Rides range from rollers coasts, bumper cars, trains, rumpus room, and more!
Trader's Village Flea Market, Houston
Trader's Village has it all. It has an outdoor flea market, unique vendors, an amusement park, a large food court, and a campground!
Shopping is open on Saturday-Sunday with parking only at $4. Bring the kids, purchase the all-day pass for $10 and they won't complain about a day of shopping!
Throughout the year they host special events and themed weekends such as car shows, wrestling, and Day of the Dead.