Ohio is filled with the holiday spirit! With everything from drive-thru winter wonderlands to lit-up lazy rivers to gorgeous neighborhoods. Adding all these Christmas Lights in Ohio to your holiday schedule is a must-do.
Find the best Christmas light displays in Ohio
Below is the ultimate list of the best Christmas light displays in Ohio. No matter if you are enjoying a drive-thru experience with the family or walk through exhibit with friends, there are plenty of unique destinations to chose from this holiday season.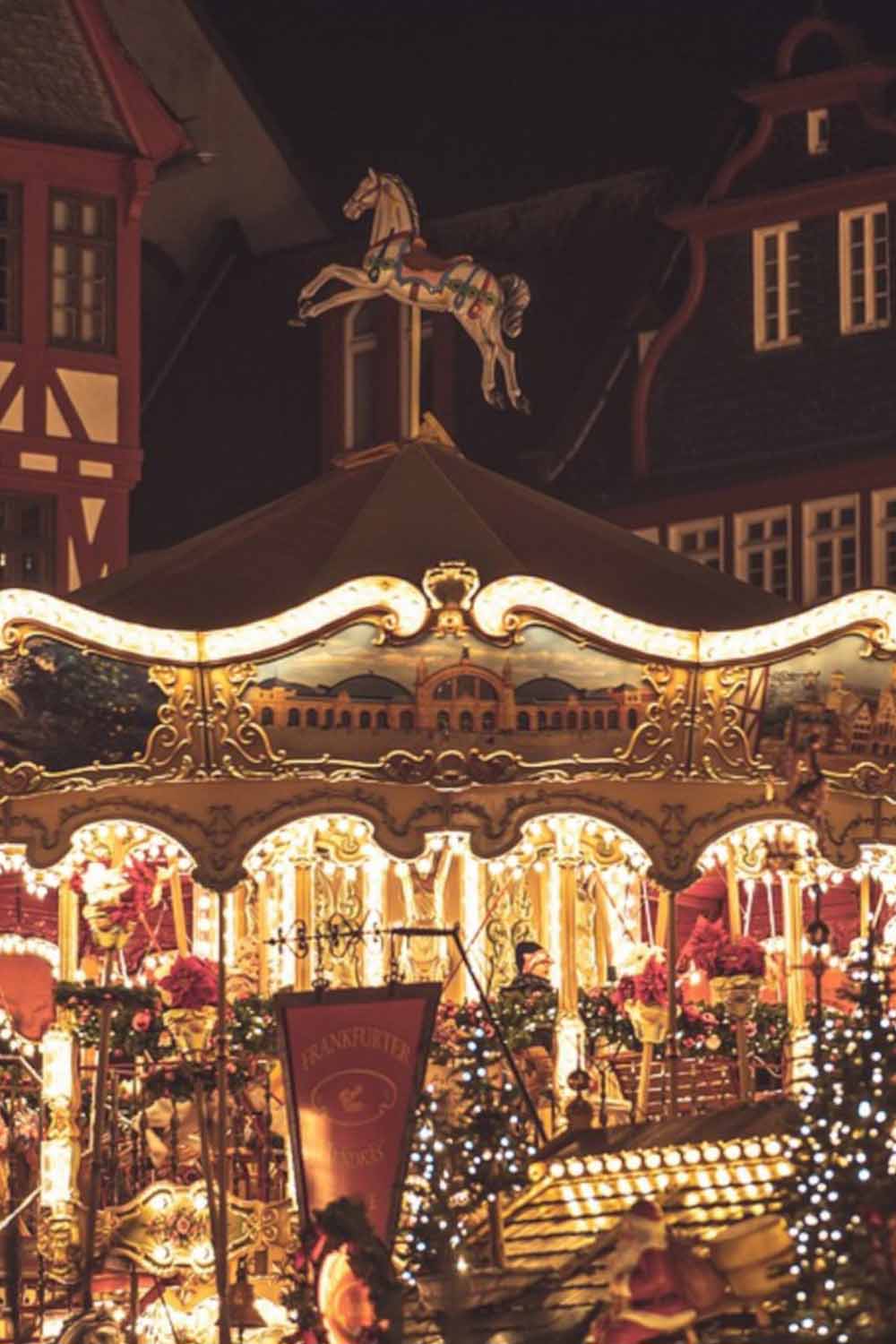 The Best Christmas Lights in Ohio
Akron Zoo Lights
Where: 505 Euclid Avenue, Akron, Ohio 44307
Cost: $13.00 ages 14+; $9.00 Ages 2-14; Children under 2 are free; Parking fee $3.00
When: 26-28, Dec. 3-5, 10-12, 17-23 & 26-30; 5 – 9 p.m.
Details: The zoo lights features over 25 miles of lights, light displays, Santa Land, S'mores station, Candy Cane Way, holiday town in Grizzly Ridge, and more.
Hot chocolate, coffee, beer, and wine are available for purchase. It's no wonder this has become a family tradition for many.
Bethlehem Hills Christmas Light Park
Where: 9760 Mayfield Road, Chesterland, OH 44026
Cost: $25 per vehicle
When: Nov. 26 – Jan. 1; 5 – 10 pm
Details: Enjoy the Christmas season at this light display that the entire family will enjoy. The 1.25-mile drive through 240 acres of rolling hills, woods, creeks, and lakes is truly an enchanting winter wonderland.
Children and adults of all ages can enjoy viewing 40 spectacular Christmas light displays with more than 2 million LED lights.
Guests will view a Christmas Carnival, Candy Cane Village, an elaborate recreation of the Nativity scene, a Salute to Our Armed Services, Toyland, Santa's Workshop, family fun, and much more!
Butch Bando's Fantasy of Lights (formerly called Alum Creek Fantasy of Lights)
Where: 3311 South Old State Road, Delaware, OH 43015
Cost: $20 per vehicle Monday-Thursday; $30 per vehicle Friday-Sunday
When: Nov. 18 – Jan. 2; Sun – Thur. 5:30-9:30pm, Fri. & Sat. 5:30-10:30pm
Details: The Alum Creek State Park Campgrounds in Delaware is the setting for this 3-mile drive-thru holiday light show. Guests can enjoy the Christmas lighting displays from the warmth of their vehicle.
READ NEXT: The perfect Oahu Itinerary
Christmas Cruise Thru
Where: 530 South Main Street, Hicksville, OH 43526
Cost: Donation
When: Nov. 20 – Dec. 23; 6-9 pm
Details: The fairgrounds in Hicksville Ohio this time of year is transformed into the largest light show in the tri-state area. The drive-thru event features more than 100,000 outdoor lights and displays.
Christmas Ranch
Where: 3205 S. Waynesville Road, Morrow, OH 45152
Cost: $15 per car
When: Nov. 20 – Dec. 23
Details: This festival has plenty of holiday cheer! Seven unique Christmas shops, photos with Santa, bakery, train, and wagon rides. Guests can enjoy walking through this winter wonderland.
Cincinnati Festival of Lights at the Cincinnati Zoo
Where: 3400 Vine Street, Cincinnati, OH 45220
Cost: Prices vary
When: Nov. 19 – Jan 9; 10 am – 9 pm
Details: It's no wonder this has been voted as the #1 Zoo Lights in the Country by USA Today featuring over 2.5 million twinkling lights!
Guests can enjoy the Toyland Express Train, Gingerbread Village, Wild Lights Show on Swan Lake, and other family activities.
Cleveland Public Square Holiday Lights
Where: 50 Public Square, Suite 1700, Cleveland, OH 44113
Cost: FREE
When: Nov. 27 – Jan 10; 1 – 7:30 pm
Details: Guests can enjoy a lighting ceremony, shopping, visit Santa, a Santa scavenger hunt, live entertainment, and more.
Columbus Zoo Wildlights
Where: 4850 Powell Road, Powell, OH 43065
Cost: $21.99 Ages 10-59; $16.99 Ages 3-9, 60+; Children under 3 are free
When: Nov. 19 – Jan. 2; Sun. – Thur. 5-9pm, Fri. & Sat. 5-10pm
Details: The Columbus Zoo Christmas lights feature over a million lights. Activities include a holiday skate rink, Santaland Zoo, animated light at Conservation Lake, Polar Bear Express, and more.
Conservatory Aglow at Franklin Park Conservatory
Where: 1777 East Broad Street, Columbus, OH 43203
Cost: $22.00 Ages 12-59; $19.00 Ages 60+; $12.00 Ages 3-12; Children under are free
When: Nov. 13 – Jan. 9; 5 – 9 pm
Details: The outdoor conservatory turns into a twinkling, wonderland. Holiday display features include a rainbow tunnel, hand-blown glass ornament trees, poinsettias, and live entertainment.
Dazzling Christmas lights
Where: 649 Old Coach Rd Westerville, OH 43081
Cost: FREE
When: Nov. 27 – Jan. 3; 6 – 10 pm
Details: The Dazzling Christmas Light display is a synchronized Christmas Lights show that takes place every night in a Westerville neighborhood. 90,000 Christmas Lights dance to music.
Deck the Hall at Stan Hywet Hall & Gardens
Where: 714 North Portage Path, Akron OH 44303
Cost: Tickets start at $16
When: Nov. 26-28, Dec. 2-5, 9-23, 26-30; 5 -8 pm
Details: The estate is decorated with one million holiday lights, and the Manor House décor is inspired by the theme of Lights, Camera, Christmas. Guests can stroll through the garden and grounds that are decorated in over 1 million lights that are choreographed to the lights.
Family favorites and classic Christmas movies will be staged in 21 spaces in the Manor House, with 25 decorated trees to create a festive holiday atmosphere throughout.
Dogwood Pass
Where: 722 Adams Road, Beaver, OH 45613
Cost: $15.00 Ages 8+; Children under 7 are free
When: Nov. 26 – Dec. 26; 11 am – 4 pm
Details: A replica of the old west mining town, Dogwood Pass features a wild west outdoor drama show daily.
During the holidays, the town is decorated with Christmas lights, holiday-themed shows, visit with Santa and the Grinch.
Festival of Lights
Where:1918 Mechanicsburg Rd, Springfield, OH 45503
Cost: FREE
When: Dec. 16 – 27; 6 -9 pm
Details: This free drive-thru display on the campus of the Oesterlen Services For Youth, Inc. is sure to make your spirits bright.
Guernsey County Courthouse Lights Display
Where: 801 Wheeling Avenue, Cambridge, OH 43725
Cost: FREE
When: Nov. 1 – Dec. 31; 5:30 – 9 pm
Details: The courthouse that was built in 1881, comes to life with thousands of pulsating lights synchronized to holiday music.
The family-friendly event features over 50,000 lights, a 20-foot Christmas tree, and 60 animated displays.
Holiday In Lights at Sharon Woods
Where: 11450 Lebanon Road, Route 42 Sharonville, OH 45241
Cost: Walking tickets $5, $15 per vehicle
When: Nov. 20 – Jan. 2;
Details: Featuring 1 mile of lights, that can be viewed by walking or staying warm in your vehicle.
It has over 1 million lights and over 250 light displays from Santa Claus and his elves, to every animal on the ark. Guests can also purchase special effects glasses to enhance the experience.
Journey BOREALIS
Where: 1763 Hamilton Cleves Rd., Hamilton, OH 45013
Cost: Monday-Thursday $20 per vehicle; Friday-Sunday $25 per vehicle
When: Nov. 19 – Jan 2; 5:30 – 9 pm
Details: This event features a 2-mile round trip drive-through annual light display at Pyramid Hill in Butler County.
The 300-acre park is lit up with over 2 million lights with displays such as A Starry Night section, aCandy Cane Forest, Santa's Workshop, and more!
Land of Illusion Christmas Glow
Where: 8762 Thomas Road, Middletown, OH 45042
Cost: Check website for pricing
When: Nov. 25 – Dec. 30; 6 -10 pm
Details: Celebrate the season at The Christmas Glow, over 3.8 million lights at the 2-mile long Christmas Around the World drive-thru experience, visit Santa at the Christmas Village Santa Workshop, or just take in the majestic lights of the 45-foot Christmas Tree as you and yours warm by the gas fire pits.
Other attractions include a Christmas Village, Santa's Workshop, gift shop, petting zoo, and more.
Legendary Lights of Clifton Mill
Where: 75 Water St. Clifton, OH
Cost: $10 per person
When: Nov. 26 – Dec. 30; 6 – 9 pm
Details: The event features over 4 million lights illuminating the mill, the gorge, the riverbanks, trees, and bridges.
There is even a 100-foot "waterfall" of twinkling lights. This winter wonderland includes a Miniature Village, a Santa Claus Museum, a Toy Collection, and a spectacular synchronized lights and music show that features the old Covered Bridge.
Lights up Milton
Where: 500 Tytus Avenue, Middletown, OH 45042
Cost: Donation
When: Thanksgiving – NYE; 6 – 10 pm
Details: Special events include visits with Santa & Mrs. Claus and a balloon glow. Nightly festivities include the tunnel of twinkling lights and Christmas displays.
Lights on the Lake
Where: 1700 East 1st Street, Ashtabula, OH 44004
Cost: $5 per vehicle
When: Nov. 26 – Dec. 31; Fri-Sun 6 – 9 pm
Details: This is the largest holiday light display on Lake Erie at Ashtabula County's Lights on the Lake.
Guests can experience over 70 displays on Lakeshore Park's 54 acres of rolling hills and majestic Lake Erie backdrop.
Lucy Depp Park Light Show
Where: 9360 Frabell Dr. Powell OH 43065
Cost: FREE
When: Black Friday – First week of Jan.; dusk – 10 pm
Details: A show put on by residence on the private property in Powell. The light display has over 60,000 lights and is the perfect neighborhood light show.
ParkLights at Caesar Ford Park
Where: 520 South Stringtown Road Xenia, OH 45385
Cost: FREE
When: Dec 1; 6 – 9 pm
Details: Wind your way through the Winter Wonderland, North Pole Car Show, Winter Farm, and Festive Festival, then wave to Santa at the North Pole
North Pole Express
Where: 12505 C.R. 99 Findlay, OH 45840
Cost: $4.00 ages 13+; $3.00 ages 12 and under
When: Nov. 26 – Jan. 2; 5:30 – 9 pm
Details: Head to the Northwest Ohio Railroad Preservation Inc. for a holiday event like any other. Hop on board the quarter scale trains for a magical trip through a winter wonderland of sparkling lights and festive decorations.
See delightful toy trains running in our beautifully decorated museum and train barn. Hundreds of decorated trees inside and out, plus Santa and Mrs. Claus visit on select nights.
The Christmas Cave
Where: 4007 White Gravel McDaniel Road, Minford, OH
Cost: FREE
When: Nov. 20 – Dec. 19; 4 -10 pm
Details: The Christmas Cave is a self-guided light display presented uniquely in the beautiful and mysterious passageways of an underground mine.
Features include 16 Biblical scenes underground, 3 nativity exhibits, outdoor displays, photo spots, gift shops, and more.
Toledo Ohio Zoo Lights
Where: 2 Hippo Way, Toledo, OH 43609
Cost: $21.00 Ages 12-59; $18.00 for children and 60+
When: Nov. 19 – Dec. 31; 3 – 9 pm
Details: The Lights Before Christmas events feature over 70 miles of lights decorating the zoo. Activities include an Ice Slide, bumper car on the ice at the Winter Village, Douglas, the Talking Fir Tree, and more.
Upper's Winter Fantasy of Lights
Where: 525 East Wyandot Avenue, Upper Sandusky, OH 43351
Cost: Suggested donation $5.00 Mon. -Thur. and $10.00 Fri. -Sun.
When: Dec. 1 – 30; 6 – 10 pm
Details: This 33-acre Harrison Smith Park features a million twinkling lights and light displays. Grab a cup of hot cocoa and enjoy this drive-through light display.
Woodland Lights
Where: 895 Miamisburg Centerville Rd, Dayton, OH 45459
Cost: $10
When: Nov. 19 – Dec. 30; 6-9 pm
Details: Woodland Lights offers a fantasy land of holiday lights and displays along the half-mile paved path. visitors can stroll through the ten acres of sparkling light and whimsical displays or take a ride on the Rieck Express train along a new path!
WonderLight's Christmas in Ohio
Where: $20 per vehicle Monday-Thursday; $30 per vehicle Friday-Sunday
Cost: $7 per person; Children under 3 are free; $30 Carload Pass
When: Nov. 12 – Jan. 9; Daily 5:30-10:30 pm
Details: Head to the National Trail Raceway to drive through these amazing Christmas lights in Ohio. The event has more than 1 million LED synchronized lights to holiday music on the radio.