Sunflower season in Kansas only lasts a few weeks, but it's something you don't want to miss. I've rounded up the best sunflower fields in the state to visit this summer.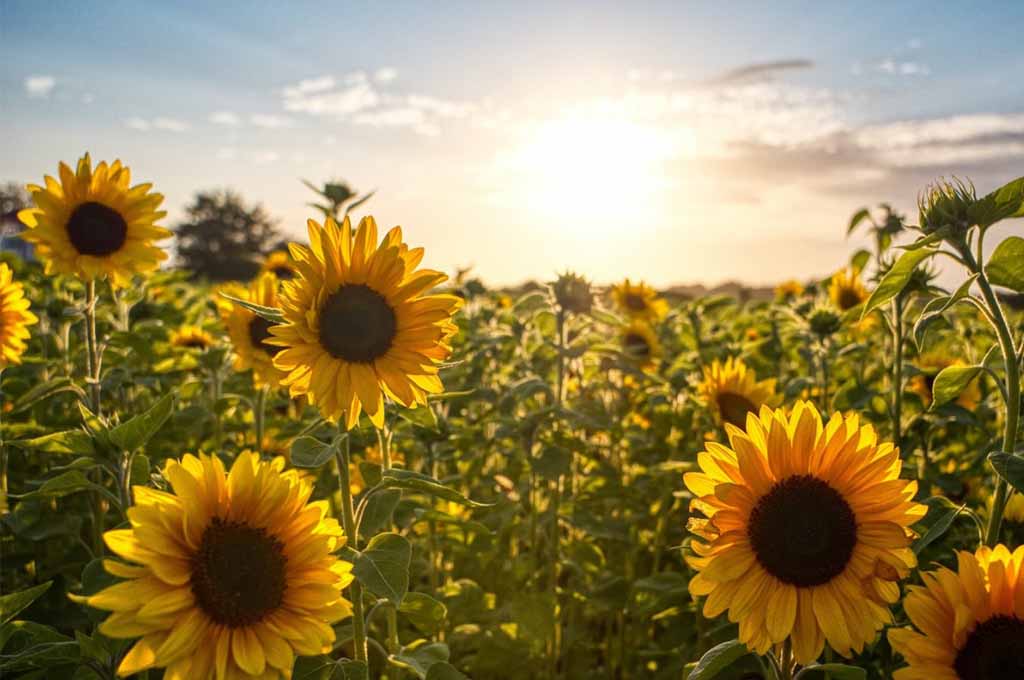 Below you'll find the ultimate list that includes where you can find the best public sunflower fields in Kansas. If you are looking for sunflower fields near me, then be sure to scroll down to find one to visit.
Kansas has so many fun and unique things to do and strolling through a field of beautiful sunflowers is a summer must-do!
There are so many fun weekend destinations that are sure to keep you traveling every week of the year.
Kansas Sunflower
Kansas sunflower fields are the perfect destination to take photos, have a picnic, and simply enjoy a day in nature soaking in the natural beauty.
READ NEXT: Best Things to do in Wichita, Kansas
Sunflowers are the state flower and make for the perfect photo opportunities. Spending a late summer day walking through a field of sunflowers is a must-do.
Thankfully there are plenty of fields scattered across the state to visit!
This area has sunflowers blooming from August – October. So plan to visit the Kansas flowers during this time for an ultimate day date with your significant other.
Sunflower Fields Near Me
A & H Farm
Where: 1374 Collins Lane Manhattan, KS 66502
Details: The farm offers a small patch of sunflowers. Of you can enjoy a full day at this farm and they have plenty of activities for the kids. They have lots of farm animals to visit with and seasonal produce for purchase as well.
Berry Hill UPick Farm Sunflowers
Where: 5950 Southeast Croco Rd, Berryton, KS 66409
Details: Free to visit, this is one of the best places to see a gorgeous Kansas sunflower field. They typically plant fields at different times to ensure the blooms are in season for longer.
The farm works on an honor system and asks that you donate $1 per stem of sunflowers you pick. What makes this farm unique is that they have a multi-color field of sunflowers! Profession photographers are encouraged to donate when visiting.
Britt's Garden Acres
Where: 1000 S Scenic Dr, Manhattan, KS 66503
Details: Located along the Native Stone Scenic Byway, you'll find these 30 acres of sunflowers. These fields are typically in bloom from late August to mid-October and each field bloom time is about 2 weeks.
The admission fee is $5 per person and $1 for each sunflower. They also have 250 acres of plump fruits and vegetables that are all pollinated by their honey bees.
Cedar Creek Farm
Where: 6100 N 119th St W, Maize, KS 67101
Details: This farm is run by the Smith family and is a great place to bring the kids to enjoy a day at a farm. They have four fields with a variety of plants that include red, purple, strawberry lemonade, green, blue, and teddy bear sunnies.
Admission is $5 per person or $20 a car. They also offer season passes for $20 which allows unlimited access to sunflower fields and the pumpkin patch in the fall.
Diana Burress, Augusta Sunflower Field
Where: 401 15th Ave, Augusta, KS 67010
Details: Run by local real estate broker, Diana Buress, she offers a fun place to enjoy the flowers with the family. This is a good sunflower field, is free to visit and sunflowers are free to pick.
They kindly ask not to pick flowers where others are taking photos.
READ NEXT: Best Roadside Attractions
Eleanor's Events Sunflowers
Where: 18605 S. 75 Hwy, Scranton, KS 66537
Details: Open from August through Labor Day, guests are welcome to enjoy these beautiful flowers at no charge. This old, dilapidated farm was purchased in 2019 and has since had extensive renovations and brought the property back to life.
Guests can now book an overnight stay in the farmhouse and rent it out for weddings or other events.
Gieringer's Family Orchard & Berry Farm
Where: 39345 W 183rd St, Edgerton, Kansas 66021
Details: Guests can enjoy the beauty of the sunflowers and shop at the on-farm market where you can purchase pre-picked fruits in season. Want to pick your produce straight from the plant?
They also offer U-Pick! U-Pick visitors can also enjoy our kid's play area featuring combine & truck slides, rat racers, hay mountain, and more!
Grinter Farms
Where: 24154 Stillwell Rd., Lawrence, KS 66044
Details: This working farm has plenty of fields and admission is free. They plant the seeds in July and blooms typically last through September. They have plenty of parking areas for guests.
Be sure to check the Grinter Farms Facebook page for opening day information.
Johnson Farms Plants & Pumpkins
Where: 17701 Holmes Rd, Belton, MO 64012
Details: Johnson Farms Plants & Pumpkin exists to offer high-quality plants and produce in a beautiful, relaxed setting. In the country, but a short drive from your home.
This 140-acre working farm has it all! Not only do they have several sunflower fields, but they also harvest 50-acres of pumpkins, grow over 24,000 garden mums, and have a massive apple orchard.
KC Pumpkin Patch
Where: 13875 S Gardner Rd, Olathe, KS 66061
Details: KC Pumpkin Patch is Kansas City's destination for Pumpkin Picking, Farm Animals, Sunflower fields, Adventure & more! The KC Wine CO Sunflower Fest is the ultimate outdoor summer festival.
Tickets include access to the sunflower field, giant yard games, acres of kid's activities, food trucks, themed photo booths, parking, restrooms, and more.
READ NEXT: Best U-Pick Farms in Houston
Klausmeyer Farm
Where: 8135 S 119th St W., Clearwater, Kansas 67026
Details: This farm has three separate patches planted at different times. So they typically can find sunflowers blooming from July – September. Professional photographers can purchase daily passes or a season pass.
The fee for visitors is $2 per person.
Peterson Farm Brothers
Where: The Heights Wedding Venue, 2951 13th Ave. Lindsborg, KS 67456
Details: This is probably the most famous sunflower field in Kansas. Guests can stroll through the sunflower trails. Be sure to get your photos in the field with the Coronado Heights Castle in the background.
Russell Sunflower Patch
Where: 18220 State Hwy B, Richmond, MO 64085
Details: Russell Sunflower Patch harvests, bags, and sells the black oil sunflower seed produced on their farm to various locations in West Central Missouri and Kansas City areas.
This location has gorgeous fields and the perfect backdrop for your Instagram-worthy photos.
Schwinn Produce Farm
Where: 17624 Santa Fe Trail, Leavenworth, KS 66048
Details: Schwinn Farm produces a variety of seasonal produce from early season asparagus and strawberries to late fall pumpkins and everything in between.
They have a gorgeous sunflower field for picking and photos. But what makes this farm so unique is The Barn.
Located along the Glacial Hills Scenic Byway, The Barn is made of the traditional frame barn and makes for a beautiful backdrop for photos or hosting weddings and events.
Sunflower Festival at Kansas Maze
Where: 13209 E. 82nd Ave, Buhler, Ks 67522
Details: Tickets for the annual sunflower festival are $7 and include admission, access to the sunflower fields, photo opportunities, trails, jumping pillows, playland activities, and more.
The festival happens each year from mid-August – through early September.
READ NEXT: Best Cherry Farms in Michigan
Walters Sunflower Field
Where: 10001 NW U.S. HIGHWAY 77, BURNS, KS 66840
Details: They have two planted sunflower fields with staggered planting, so blooms will happen for most of August.
They also offer many activities, such as a corn maze, two gift shops, play areas with an admission price of $15. Check their Facebook page for updates.
Kansas is a short 5 hour drive from Fort Worth, Texas and the famous Stockyards is a quick and easy weekend getaway from Kansas!
When do sunflowers bloom in Kansas?
Typically, Kansas sunflowers seem to bloom in August and September and can go into early October. But remember this all depends on the weather, so the dates can change from season to season.
How long are sunflowers in bloom?
Most sunflower fields typically only have a two-week window when they are in full bloom. However, all fields are planted at different times, and weather can affect when they boom.