THIS POST MAY CONTAIN AFFILIATE LINKS
This strawberry pineapple smoothie is one way to satisfy your peanut butter cravings. It tastes great and keeps you full for hours!
This strawberry pineapple smoothie is a great way to start your day! It's simple to make and an easy way to get more fresh fruit in your diet.
Made with fresh strawberries and pineapples, this creamy smoothie can be made with or without yogurt.
What I like about this strawberry smoothie recipe is that it's so versatile. You can make it as a smoothie or make it thicker and serve it as a smoothie bowl with your favorite toppings added to it.
Strawberry Pineapple Smoothie
Smoothies are by far one of my favorite go-to snacks or as a healthy breakfast option. It's easy to change up the ingredients for whatever I'm in the mood for. Plus, no matter what, I always have something in the fridge to make a delicious smoothie.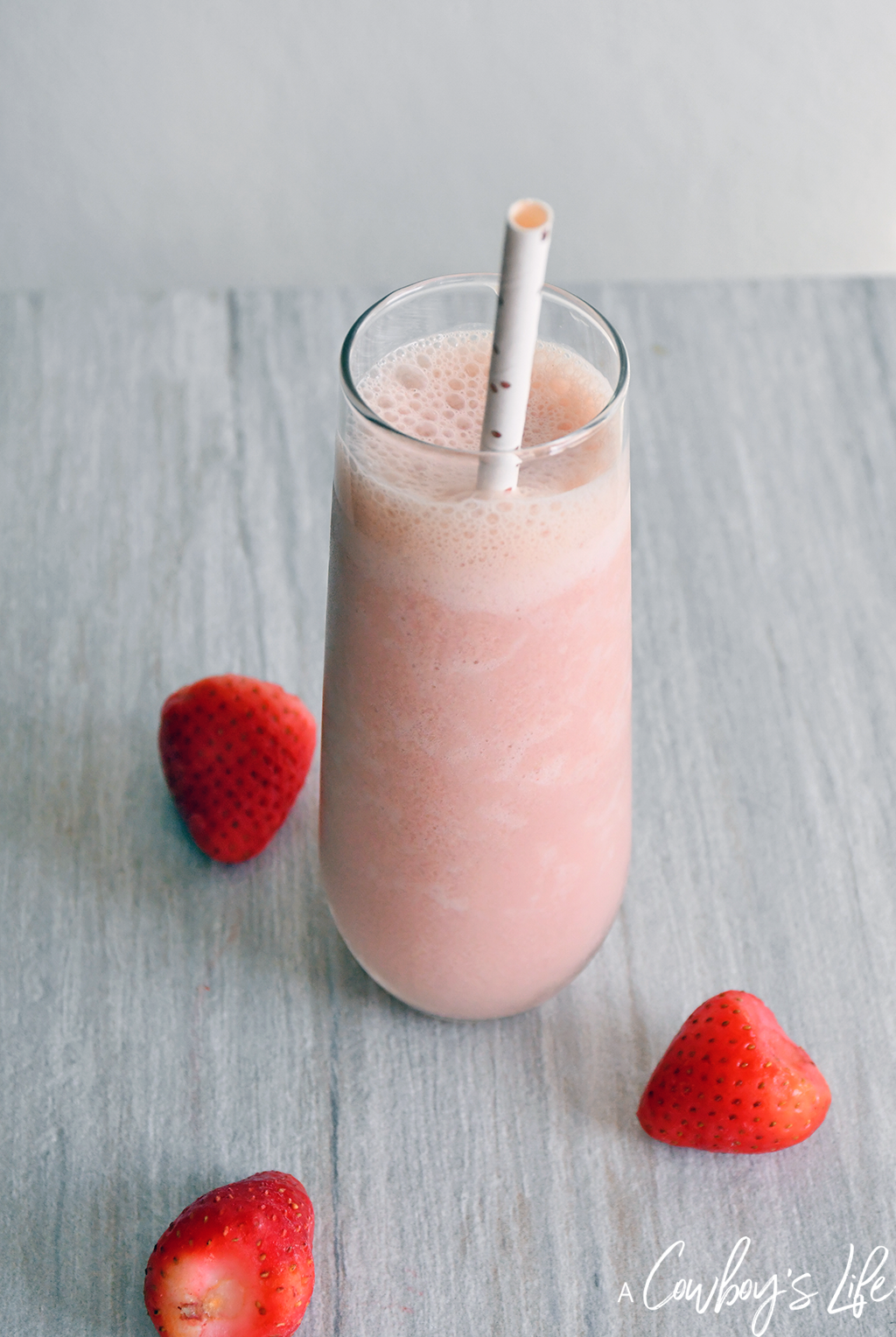 My son has a hard time eating certain fruits. Mainly because of the texture – I guess. Or, it could be that he's being a typical kid. Either way, I can count on mixing up a creamy smoothie and he will devour it. Mom for the win!
How to make this Strawberry Peanut Butter Smoothie
Ingredients Needed:
1 1/2 cup strawberries
1/2 cup pineapples
1 cup almond milk (or coconut milk if you prefe)
1/4 cup peanut butter powder
Directions:
Place all ingredients in blender.
Blend for several minutes until smooth.
Pour into a glass, add a straw and enjoy!
Peanut Butter Strawberry Pineapple Smoothie
Bam! In under 5 minutes, you have a tasty meal or snack. Plus this Peanut Butter Strawberry Pineapple smoothie is kid-tested and approved.
Strawberry Pineapple Smoothie
This is a refreshing 4-ingredient fruit smoothie that is packed with flavor and tastes like summer. This delicious strawberry pineapple smoothie has a creamy texture and tropical flavor that will have you dreaming of sitting on a beach.
Smoothies are a fantastic way to satisfy our appetite and get in extra fruits and vegetables. With a few simple ingredients, you can whip this recipe up in no time.
Strawberry Pineapple Smoothie Add-Ins
If you want to add in additional flavors, fruits, or added calories, you can add one or more of the following ingredients:
Ripe Bananas
Pineapple Juice
Almond butter
Baby spinach
Flax Seed
Soy milk or Cashew milk
Maple syrup
Blueberries
Plain or vanilla yogurt
Greek yogurt
Coconut flakes
Wheat germ
Chia seeds
Collagen – but I recommend using a flavorless brand so it doesn't take away from the refreshing taste of this smoothie.
How to make a vegan strawberry banana pineapple smoothie?
To make it vegan, all you need to do is replace dairy milk and yogurt with plant-based milk or yogurts.
How to store leftovers
Strawberry and pineapple smoothie does tastes when freshly made. But if you want to batch make the smoothie and save some for later you can. Store the leftovers in an airtight container like a mason jar and place them in the refrigerator. It will stay fresh for about 24 hours. Shake well before drinking.
To save time on busy mornings when making your perfect smoothie, you can chop up the fruit and freeze them in ziplock bags. Then all you need to do is blend them when you are ready to serve them.
Of course, you can't make a quality smoothie unless you have a great blender to do the job. Below is a great high-speed blender that can make your morning breakfast creamy and smooth.
Of course you can't make a quality smoothie unless you have a great blender to do the job. Here are the best blenders that can make your morning breakfast creamy and smooth.
Best Blender for Frozen Fruit Smoothies
This is a powerful blender that also doubles as a food processor. It comes with 16 ounces of Nutri Ninja cups with lids to go that are perfect when traveling. It operates at 3 speeds together with the pulse function to pulverize ingredients completely.
If you're a smoothie person, you will also enjoy this great recipes: