Located in East Texas, Palestine has everything you need to enjoy a weekend getaway. This adorable town has everything from hiking, vintage train rides, museums, shopping, delicious restaurants, and more!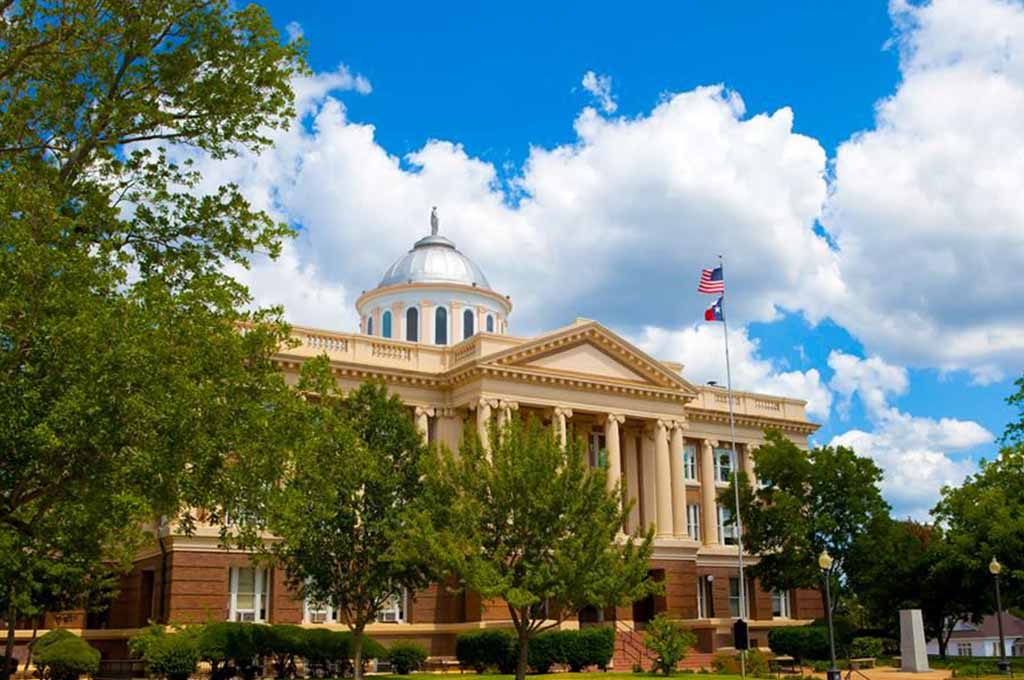 Palestine is located an hour and 45 minutes from Dallas. This small town is the county seat of Anderson County and you'll find plenty of historical and outdoor adventures!
There are so many fun things to do in this East Texas town, making it the perfect weekend getaway.
READ NEXT: 17 Best lakes in Texas
What to do in Palestine Texas
Anderson County Courthouse
This is the crown jewel of downtown Palestine and is even more beautiful when it's lit up at night.
Built-in 1914, the building features a double-spiral staircase and stained glass montage around the dome. Guests can visit the courthouse Monday through Friday.
Anderson County Jail
Known as the Texas Jail House and is listed on the national register of historic places. It no longer houses lawbreakers but offers tours and unique events such as October's "Quarantine: Zombie Outbreak" and "Grinch's Lair" Whoville makeover in December.

Braly Builders Supply
This is the coolest hardware store on the planet! What was once a 1930's elementary school, turned into a hardware store.
Visitors can walk through the building and see the school theme throughout. Everything from chalkboards used as hanging signs, lockers house supplies, and each classroom has been turned into a department, while the principal and nurse's office has become the store offices.
READ NEXT: Best flea markets in Texas
Curious Museum
Put on your thinking caps and head over to this fun, hands-on museum. This museum will engage the youngest learner through adults. Guests can explore the museum, host a birthday party and enjoy the special events they have throughout the year.
Davey Dogwood Park
This 200-acre park has over 5 miles of paths to walk, run and bike through the gorgeous area.
Attending the Dogwood Trails Celebration over the last two weekends in March and the first weekend in April is dedicated to the beauty of the dogwood trees.
Howard House Museum
Howard House in Palestine, Texas was built in 1848 by Reuben A. Reeves, Texas State Supreme Court Justice, and justice of the Supreme Court of the New Mexico Territory.
Today, visitors can explore the house and enjoy the collections of photos of early settlers, period furniture, doll collections, and more.
Lake Palestine
This 40 square mile lake was the result of the dam on the Neches River. This lake has outdoor adventures for everyone and plenty of natural beauty.
Guests can do all sorts of popular activities such as water skiing, fishing, canoeing, hiking, biking, and camping.
There is plenty of RV parks, campground, resorts, and cabins surrounding the lake. Making it a perfect place to enjoy a weekend getaway. This is also the location of Pine Cove Christian Camp and the Villages Resort.
READ NEXT: Fun things to do in Glen Rose, TX
Museum of East Texas Culture
This museum is located in a former high school built-in 1916. The four-floor museum features exhibits that include the Railroad Room, Caddo Indian Exhibit, and the 1867 Log Cabin Exhibit.
This is also the location of the Old Time Music Dulcimer Festival that takes place the last weekend in March.
Palestine Carnegie Library
With a contribution of $15,000 from Andrew Carnegie, the original library was replaced by the current structure, which served as the library until August 1986. The building became a Registered Texas Historical Landmark in 1970. The building is one of thirteen remaining Carnegie Library buildings in the State of Texas.
It's a beautiful building and a great place to wander the halls and great photo ops in front of the building.
Palestine Visitor Center
This is a great place to start your time in Palestine. The visitor center has brochures and employees who can give you the best tips and places to see and go around town.
The town has more than 1,800 historic sites and an award-winning Main Street District. So there is endless fun to be had in this charming town
Texas State Railroad
Step aboard the refurbished vintage train for a round-trip, four-hour, 25-mile rail journey through the Piney Woods of East Texas where history is just part of the journey.
Visit during Christmas time and the classic Christmas story comes to life when you take a ride on the Texas State Railroad's Polar Express. During the train ride, guests will enjoy delicious hot chocolate, cookies, and music from the movie. Once you arrive at the North Pole, you'll be greeted by Santa who gives everyone the first gift of Christmas – a silver sleigh bell!
Where to eat in Palestine
Cream and Coffee
Fuel up with an iced coffee, drip coffee, fruit smoothies, or frappe before heading out to explore the town. You can enjoy a slow morning on the patio or hit the drive-through to take your drink of choice on the go.
Eilenberger Bakery
A stop at the oldest bakery in Texas is always a must! They have brought a smile to everyone's face since 1898 and still use the family recipes that were brought over from Germany.
Pint & Barrel Drafthouse in Old Town, Palestine
Known for its great pub food and lots of beer on tap. Enjoy dinner inside or relax on the patio while you unwind after a day on the lake.
Sabor A Pasion Estate and Vineyard
This is a beautiful East Texas gem! Visitors can take a wine tour, stroll through the vineyards, enjoy a wine tasting, eat at the restaurant, stay at the bed & breakfast or rent the venue for a wedding.
Switch Brick Oven
Located on an oak-lined hill, guests sitting on the deck can enjoy beautiful views and delicious food. The full-service restaurant features Neopolitan-style pizza, pasta, steak, craft beer, and red and white wines in Palestine, Texas.
Oxbow Bakery
Oxbow Bakery is a pie shop located in Palestine, Texas. Voted one of the best places in Texas for pie by Texas Highways. Not only do they have amazing pie, but a fun general store with unique products for the home and gifts.