A trip to Tyler, TX is a must-do! It is the rose capital of America, but this adorable, laid-back town in East Texas has a lot more to offer than stopping to smell the roses!
Below you'll find a list of 30 amazing things to do in Tyler, TX this weekend.
I love that Texas has endless towns and unique travel destinations. Perfect for when you have a free weekend and looking for a fun getaway.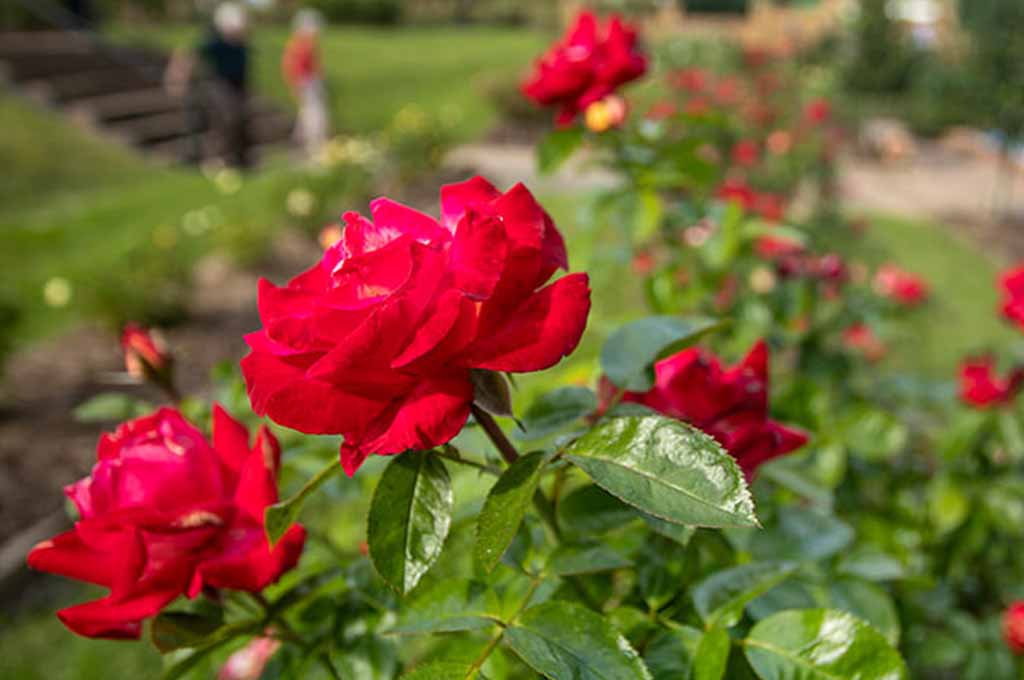 Things do in Tyler, TX this weekend
READ NEXT: Top things to do in Fort Worth
The largest rose garden in America! It is located on over 14 acres and boasts more than 35,000 rose bushes and more than 500 types of roses!
This garden makes me wish I had a green thumb and time to create a gorgeous garden in my backyard.
Peak season is mid-May and October, with various blooms year-round. Admission is free and open daily from dawn to dusk.
On property, you will also find the Tyler Rose Museum that shares the history of Tyler roses and the annual Rose Festival. A gift shop is located in the building as well.
READ NEXT: Fun Things to do in Glen Rose, TX
Located in the middle of the piney woods, this state park offers cabin rentals, RV & tent camping sites, and over 13 miles of hiking & biking trips.
Whether you want to spend a day or a few nights, this is a great location for the whole family. The park features a cool, 64-acre spring-fed lake, 100-foot tall trees, and historic structures.
The lake is stocked with crappie, perch, catfish, and bass. If you don't own a fishing pole or forgot yours, no worry. You can borrow a fishing rod and tackle box while visiting the state park.
The park has a convenience store, picnic area, and restrooms.
This is an 85-acre zoo located in the city of Tyler, Texas. It features animals from all over the world. It features animals from all over the world.
They offer summer camps for kids and ZooSchool that offers classes that meet once a month for a total of 6 sessions.
Enjoy fun for the whole family at the Discovery Science Place in Tyler, an interactive indoor playground featuring a variety of interactive exhibits where children can learn while playing.
Kids can be an archaeologist digging for fossils, a cave explorer, a TV news anchor, a nurse, and much more. A rock-climbing wall and a puzzle area offer even more ways to test the mind and body.
Discovery Science Place is open Tuesday through Sunday.
READ NEXT: Best Haunted Houses in East Texas
With its displays of artifacts, memorabilia, paintings, and photographs, the Cotton Belt Museum tells the story of Tyler's relationship with the railroad.
The Cotton Belt Museum, housed within the former baggage section of a historic depot building, has a collection of nearly 2,000 model train engines and cars.
Admission to the museum, which is open Thursday through Saturday, is free.
Located at the Tyler Pounds Regional Airport, the museum's collection includes aircrafts such as the Huey helicopter, F-4D Phantom, and the FJ-4 Fury. Additional aviation memorabilia is on display within the museum.
Liberty Hall is a movie theater and entertainment venue located in a historic building in downtown Tyler. The hall hosts everything from screenings of classic movies to concerts, magic acts, and stand-up comedy shows.
Tickets available for purchase online.
Get up close and personal with more than 30 rescued big cats at Tiger Creek Wildlife Refuge, a 140-acre preserve set aside for these majestic animals.
At the refuge, you'll encounter lions, tigers, panthers, pumas, and a variety of other cats. The refuge is open Monday through Saturday.
This trail takes you through several neighborhoods that are famous for their Azalea blooms in March.
Although this is a driving-only trail, you won't be disappointed! Be sure to check the website to make sure the Azaleas are in bloom before making the drive.
We are huge fans of U-Pick farms and this one doesn't disappoint. They offer blueberries and strawberries you can pick right off the vines.
Picnic areas are available for guests to relax and enjoy their freshly picked fruit.
Open on Tuesday, Wednesday, and Saturday. Check the website for openings and times.
Located in Edom, this farm is open for picking in June and July. They have a country store & the bakery is stocked with fruit preserves for purchase.
Be sure to order the blueberry Cream Pies, blueberry frozen yogurt, and blueberry lemonade.
Located between Tyler and Gladewater, you'll find a beautiful 900-acre farm. The daffodils bloom across 28 acres of the farm.
Wind your way along a four-mile trail that meanders around two lakes, between wooded valleys, and around a replica pioneer log cabin.
The garden is open daily from the middle of February through March (or until the flowers are no longer in bloom.)
Tyler has the distinction of being home to Camp Ford, the largest Confederate prisoner of war camp west of the Mississippi River.
At its peak, in the summer of 1864, the camp housed more than 5,300 Union prisoners.
Today, Camp Ford is a visitor-friendly park that features numerous informational kiosks outlining the history of the camp, a walking trail, and a reconstructed cabin.
This winery, restaurant, tasting room, and bed & breakfast has it all! The picturesque farm of roaming guinea hens and timeless views produces internationally award-winning wines that are comfortable to drink and can be tasted on site.
Personalized tours share stories of twenty years of wine production amidst the backdrop of a 700 barrel two-story cellar.
On the other side of the farm, visitors can tour the micro-distillery and batch barrel room producing unique spirits. A visit to this nature-inspired hidden gem will not be forgotten.
The UT Tyler Cowan Center presents a variety of professional touring performing arts events in East Texas including the Performing Arts Series, Broadway Series, Distinguished Lecture Series, special events, and more.
From world-class performers and lecturers to Tony Award-winning Broadway musicals and top-billed theatrical and dance productions, the Cowan Center has plenty to offer audiences of all ages.
The festival is held on the third weekend of October. The Festival offers enchanting ceremonial events – the Queen's Coronation, Ribbon Cutting, and Rose Presentation, the Queen's Tea, and the Rose Parade
Leave the kids at home and head to this beautiful restaurant in the countryside.
From its spectacular private lake views and its distinctive fountain show to its eclectic live music, relaxed fine dining, and fabulous wine list, you'll quickly recognize all that makes dining at Lago del Pino more than just a memorable meal.
With over 15 beers on tap, live music every weekend, and an artisan pizza shop located inside, you'll feel right at home and want to stay awhile!
A grocery store is a must-do? It is in Tyler, TX. Grab a drink and hang out on the patio for a fun evening. Sit back, relax & take-in part in our FRESH Live Music culture.
From jazz to country to your favorite cover songs, they are always jamming on Friday & Saturday nights.
The Bonner-Whitaker-McClendon House, built-in 1878, received designation as a Tyler Historic Landmark in 1984. Guests can take a tour of the gorgeous home or partake in a murder mystery dinner party.
The American Freedom Museum illuminates the American experience during crucial moments in our nation's history. From the hills and valleys of the American Revolution to the sands of Iraq and Afghanistan.
For all the fishing enthusiasts, this a fun places to learn about the traditions of freshwater fishing in Texas, view the 300,000-gallon aquarium, and how production hatchery stocks fish in Texas public waters.
Your zipline adventure will take you from treetop to tree top with 30-mile views from each platform and high above the rocky hillside of one of the highest elevations in East Texas.
Adventures available for guests 5 and up.
If you are looking for fun, food, music, and more than a trip the East Texas State Fair is a must.
Taking place every September, visitors can enjoy livestock shows, state fair food, rides, and see exhibits in the Academic Rodeo where students show off their latest innovations and knowledge.
The perfect place to fish, swim, boating, or camping at The Boulders. There you can have lakefront sites to enjoy the views and close to all the action.
Nestled in the lush piney woods of East Texas, 12 miles East of Jacksonville, TX. Cherokee Trace Drive-Thru Safari is a wildlife park that is home to an amazing variety of wildlife.
See over two dozen exotic and endangered species that thrive in an open habitat similar to their native territory.
At your own pace, enjoy a self-guided drive through the hills and open savannahs of this 300-acre preserve.
The museum is located at a beautiful Civil War-era home filled with antique furniture, photographs, and other items that date back to the mid-1800s.
The house sits among the lush green lawns, large trees, and bushes of colorful roses and azaleas of LeGrand Park, which covers almost an entire city block. Admission to the museum and the park is free.
Browse a diverse collection of thousands of paintings, sculptures, illustrations, and other works of art at the Tyler Museum of Art.
The Rose City's art museum, situated on the campus of Tyler Junior College, features rotating and permanent exhibitions, including one of the largest collections of Mexican folk art in the United States.
Tyler Museum of Art is open Tuesday through Sunday throughout the year.
SEE ALSO: Weekend Guide to Fredericksburg, TX
Center for Earth and Space Science Education
Explore the universe, chase storms, and tour supervolcanoes at The Center for Earth and Space Science Education.
This science center is full of interactive exhibits that are designed to allow children to learn by doing, as well as a planetarium that routinely shows fascinating, and immersive, films.
The Center for Earth and Space Science Education, located on the campus of Tyler Junior College, is open Tuesday through Saturday.
Tyler is home to Camp Ford, the largest Confederate prisoner of war camp west of the Mississippi River.
At its peak, in the summer of 1864, the camp housed more than 5,300 Union prisoners.
Today, Camp Ford is a visitor-friendly park that features numerous informational kiosks outlining the history of the camp, a walking trail, and a reconstructed cabin.
Don't forget to save this on Pinterest for later!