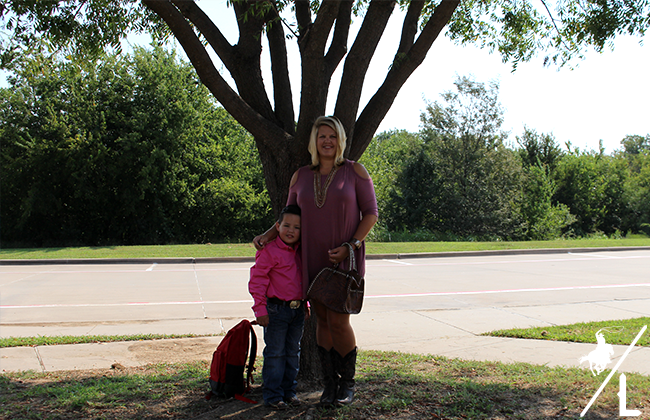 Hey y'all, today I'm teaming up with Cavender's! I love pairing my cowboy boots with dresses and little man wears his just about everyday since they look great dressed up or with a t-shirt. Having a great pair of boots is a must – especially if you want to look back to school cool!
I am all about back to school routines in our house. I like my nights and mornings to run smoothly so that we are not stressed and rushing to get to school on time. Mornings set the tone for the entire day and it's important to start off on the right foot.
How we make our mornings run smoothly:
Bags are ready to go – Make sure all books, folders and any notes to teachers are put in backpacks before bed. I also make sure my purse has everything it needs and any thing I need for running errands after drop-off.
Lay out clothes – Pick out kids clothes before bed and lay out everything so they can easily get dressed on their own in the morning. This goes for us parents as well. This will cut down on the morning rush and no spending time trying to decide what to wear.
Pack lunches – Pack what you can the night before and then finish packing the lunches during breakfast time.
Grace period – Give yourself a 10 minute grace period for when something goes awry. That way you still have time to deal with issue and not be rushed.
Simplify breakfast – It's important that kids have a fully belly before sending them off to learn for the day. But no need to cook a huge meal. Just find their favorite breakfast food and allow time at home for them to eat instead of rushing and having a mess in the car.
By having a routine and sticking to it always makes our mornings go smoothly. What do you do to help make school mornings a little easier?