Thanks to Great Wolf Lodge for sponsoring this post.
We just got back from spending a weekend at Great Wolf Lodge and had an absolute blast! It's the perfect weekend getaway for the family.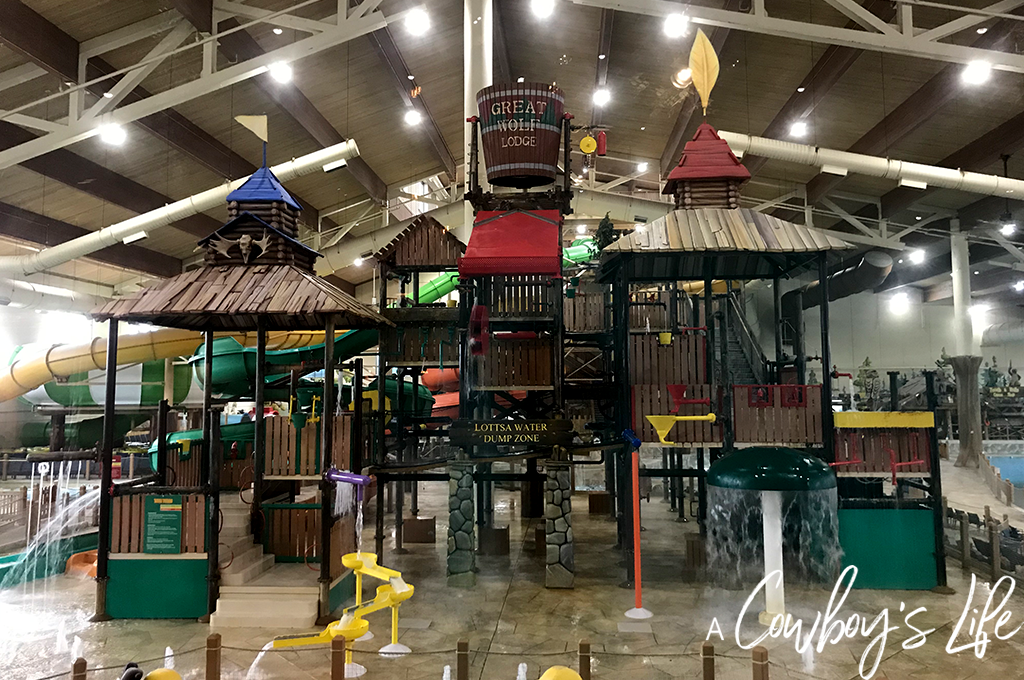 We stayed at Great Wolf Lodge in Grapevine, Texas which is nestled in between Dallas and Fort Worth.
Everything you need to know about Great Wolf Lodge
What to Pack
Everything you would pack for a typical vacation. Great Wolf Lodge is laid back, so keep it casual. Be sure to pack shorts and a couple of t-shirts (no matter the time of year) because you'll want to be comfy while playing MagiQuest. Floats, lifejackets and towels are provided at the waterpark.
What to Do
So many activities! There is of course the waterpark, nightly story time, dance parties, arcade, ropes course and even a kids spa.
We had the Paw Pass and it was perfect. It included:
1 game of MagiQuest
1 MagiQuest wand and topper
1 cup of candy from Great Wolf Candy Company
Howler's Peak Ropes Course
HowlyWood XD Theater Experience
$10 paw points card for Northern Lights arcade
We spent the majority of out time at the waterpark, arcade (there was a giant slinky that my son was determined to win!) and playing MagiQuest. MagiQuest is basically a interactive scavenger hunt and was VERY popular with the guests. One of the neat features is that the players need to go up and down each floor of the lodge to find the treasures. So I suggest skip the elevator and use the stairs to make sure your child is good and tired by the end of the day!
What to Eat
Great Wolf Lodge Grapevine has plenty of dining and dessert options. The entire resort is nut free and more than willing to accommodate any dietary restrictions you may have. We are partial to character breakfast at Loose Moose Cottage because my son absolutely loved getting his picture with the characters. Plus they have a separate kids only buffet with all the kid friendly food you can imagine.
Tips to know before visiting
Purchase the Paw Pass – You save by buying the activities as a package deal. It is worth it!
Your wristband is your wallet – The credit card you have on file is connected to your wristband. So you don't have to worry about carrying your wallet around for when you need a snack or to add more money to your arcade card. It also acts as your room key.
Allergies – If you have any allergies, just call the hotel before your arrival and they will make sure accommodate your needs.
Stay all day – On the day you check out, you can still play for the rest of the day. We put our luggage in the car and packed a change of clothes for after the waterpark.
More Posts you may like: