Texas is home to some of the most unique drive-thru zoos in the country! From petting zoos to exotic animal safaris, these drive-thru zoos in Texas are sure to delight animal lovers of all ages.
Whether you're looking for a fun family activity or an educational outing, you find the best drive-through zoo in Texas which will offer a one-of-a-kind experience that can't be found anywhere else.
Best Drive-Through Safari in Texas
Below is the ultimate list of the best drive-thru zoos in Texas and all the wonderful activities they have to offer.
Looking for more Texas adventure? Check out this list of the best amusement parks in Texas.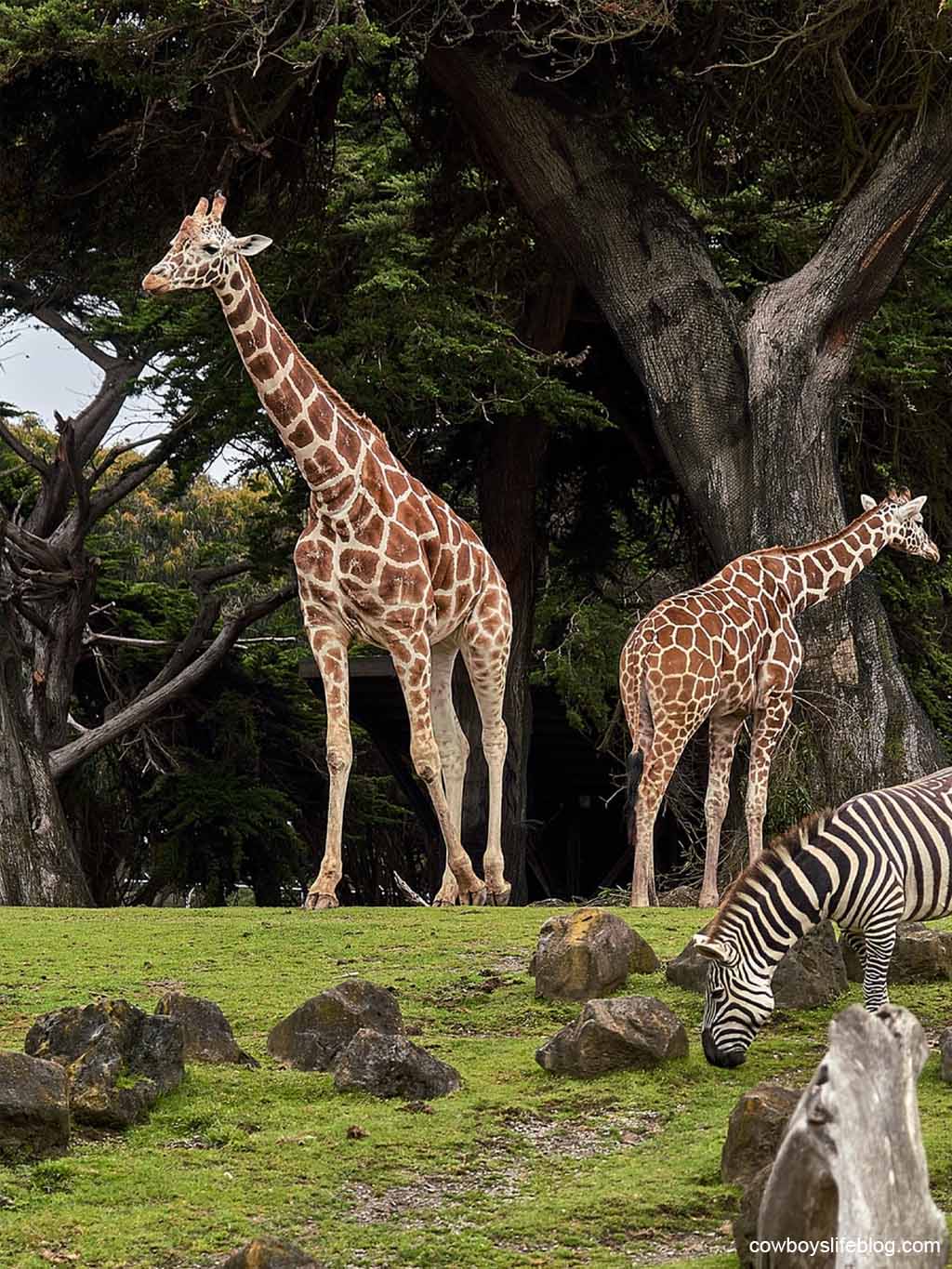 Natural Bridge Wildlife Ranch – San Antonio, Texas
Drive through 450 acres in the comfort of your vehicle while enjoying the rolling hills, live oak trees, creek beds, and beautiful live oak trees. The ranch features over 500 animals that span 40 different species, including several endangered species.
Admission offers multiple trips through the safari as every trek offers different adventures in the free-roaming environment.
Guests can tour in their vehicle or book a guided tour that takes guests on a safari in either the Safari Rover or Safari Shuttle.
Note that there are many discounted days for admission during weekdays. Be sure to check the calendar for detailed information regarding hours and pricing. Guests can also purchase a feed bucket at the gate.
Topsey Exotic Ranch & Drive Thru Safari – Copperas Cove, Texas
Enjoy a Texas safari as you drive along 350 acres. With more than 50 species of wildlife at this safari park, visitors can feed the animals in their natural settings.
READ NEXT: Best Texas Roadside Attractions
Sanctuary Serengeti – West Point, Texas
This is a smaller drive-thru zoo that will take approximately one hour. Animal sightings include lemurs, llamas, goats, pigs, zebras, and buffalo. Open only on Saturday and Sunday.
Buena Vista Wildlife Safari – Evant, Texas
For a unique experience, visitors can book an overnight stay at the RV Park or rent a cabin.
Spend the day exploring and feeding the goats, chickens, pot-bellied pigs, alpacas, llamas, and more. The park features over 23 animal species from 10 different countries.
Exotic Resort Zoo – Johnson City, Texas
Located on 137 acres, this zoo features 700 animals and 45 different species of animals, including some species which were at one time endangered.
When you purchase tickets, you have the option of a Drive-Through or a Guided Tour. Reservations are not required.
Franklin Drive Thru Safari – Franklin, Texas
This drive-thru adventure park sits on over 100 acres and has exotic animals from around the globe.
Guests can take a self-guided safari or book a VIP private tour. The tour is for those wanting a more in-depth experience and information on the animals.
Blue Hills Ranch & Giraffe Sanctuary – McGregor, Texas
Blue Hills Ranch has over 150 acres of gently rolling hills and 4 beautiful ponds that provide the perfect backdrop to world-class sunsets. Relax under the barn, while being surrounded by our amazing animals who call this land home.
Although this isn't a true drive-through zoo because you are unable to drive your vehicle, I still wanted to include it on the list. However, you book an RV hookup or cabin. Once on the property, you will encounter free-roaming animals that include giraffes, zebra, camel, emus, bison, and more.
The ranch also offers unique experiences such as swimming with otters and bottle-feeding giraffes.
Aggieland Safari – Bryan, Texas
Travel through our 250-acre safari land and see many different animals along the way. The safari park is packed with scenic views, dozens of animal species, almost 700 wild animals, and fantastic, knowledgeable Zookeepers.
Guests can also enjoy the animal encounters will you get to meet animals like giraffes and kangaroos and get a more detailed look at how they live.
Before leaving, stroll through the 20-acre adventure zoo. Here you can feed animals at the interactive exhibits.
Aggieland Safari also has a safari dining, gift & souvenir shop.
Fossil Rim Wildlife Center – Glen Rose, Texas
A Texas-size safari sits 2 hours from DFW but makes you feel like you are on a different continent. It's the perfect destination for a weekend getaway.
This drive-thru park is a great place to see exotic animals in their natural environment. Each car can purchase one bag of feed for the animals. Be sure to bring binoculars so you can view the animals at the overlooks.
The park consists of a 7 miles drive with over 1,000 animals and expect to spend several hours driving through the park. They have a gift shop and restaurant about halfway through the drive.
Rocky Ridge Drive-Thru Safari – Eustace, Texas
This East Texas wildlife park has 200 acres that are home to over 25 species of animals spread across the diverse terrain of Rocky Ridge.
The self-guided tour allows guests to view and feed the animals, enjoy scenic views, and photograph an abundance of wildlife all from the safety of their vehicle.
North Texas Safari Park – Bonham, Texas
North Texas Safari Park is the place to encounter exotic and endangered animals all from the comfort of your car. It's located about an hour north of Dallas, making it an easy day trip with the family.
Visitors can enjoy the petting zoo, explore the dedicated Australian exhibit, and feed a giraffe.
Lonesome Dove Drive-Thru Safari – Jefferson, Texas
Over 80 animals roam free on 65 acres. Animal encounters include wildebeests, bison, red deer, donkeys, camels, zebras, and more.
Your entire family will enjoy this Texas safari and even get a chance to feed some animals from the comfort of your car. Guests can also enjoy taking amazing photos, purchasing a souvenir, and visiting the petting zoo.
Busy B Ranch Wildlife Park – Jefferson, Texas
You don't have to fly to Africa to go on a Safari. This wildlife has plenty of exotic animals and up-close encounters with the wildlife.
The 3-mile driving trail takes you along 125 beautiful acres in East Texas. You will even see the picturesque view from one of the highest points in Marion County all from the comfort & safety of your vehicle.
Grapeland Safari – Grapeland, Texas
Drive thru the 59-acre park to see a llama, zebras, aoudad sheep, camels, Tibetan yaks, buffalo, waterbuck, sulcata turtles, wallabies, kangaroo, beefalo (yes, that's a thing), fallow deer and more.
The park also offers a gift shop, picnic area, pony rides, train rides, reptiles presentations, and a petting zoo.
Sharkarosa Zoo – Pilot Point, Texas
The zoo sits on 126 acres where guests can drive their vehicles on a self-guided drive, and enjoy a walk-thru petting zoo, private tours, field trips, and an outdoor dining area.
They feature over 180 different kinds of animals in their natural habitat. Animals include beefalo, alpaca, monkeys, lemurs, macaw, Sedona, horses, big cats, albino eastern grey kangaroo, bears, sloths, wallabies, and more.
These are the best drive-thru safaris in the lone star state that the whole family will enjoy. Many of these allow you to purchase a bucket of feed and enjoy the safari from the comfort of your vehicle. You'll feel like you are in South Africa, viewing a dozen exotic and wide variety of animals.