We spent a week this summer in Wyoming and it was absolutely amazing. My son and I are already dreaming of going back. Here is a itinerary for how to spend 5 days in Yellowstone and Grand Teton National Parks
We flew into Jackson Hole airport. If you are looking for a cheaper option you can fly in to Salt Lake City or Idaho Falls Regional airport and enjoy the 2 to 5 hour drive into Wyoming.
Knowing this trip requires a lot of time driving in the car, we opted to spend a little more so we can start our vacation as soon as we landed.
Spending more time in the Grand Tetons? Check out this Grand Teton itinerary for an in-depth look of what to do.
5 days in Yellowstone and Grand Teton National Parks
One day in Grand Teton National Park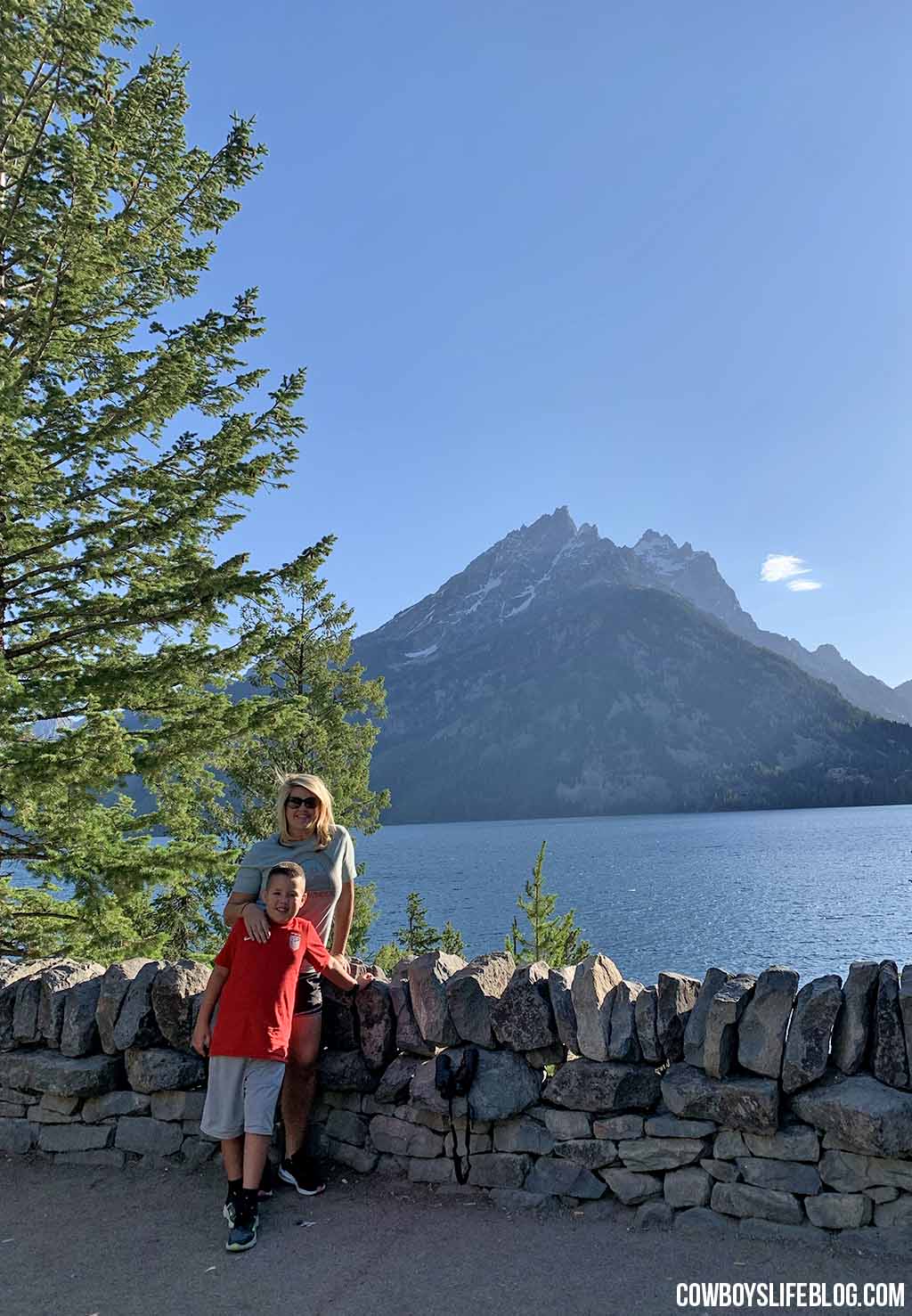 Get an early start to the day and head to Grand Teton National Park. The parking lots at the most popular hikes fill up quickly, so it's best to get there before 10 in order to snag a spot.
Otherwise, you will need to find a different trailhead or have to park far from your starting point.
Head straight to Jenny Lake. You can take a boat ride across the crystal clear lake that will save you about 2 miles off the hike.
I recommend taking the boat, simply because it's a beautiful ride and great to see the area from the water.
The boat shuttle runs every 10 minutes and costs $18 round trip or $10 one-way. This destination is very popular and expect to wait in line from 10-45 minutes for the shuttle. But it's absolutely worth the long wait!
Once across the lake, hike up to Hidden Falls. This part of the trail is a bit busy and crowded. But once you start trekking up to Inspiration Point, the crowds start to thin out.
Two Days in Grand Teton National Park
From Jackson Hole, drive to Colter Bay. This area is busy, but has plenty of parking, gas and place to grab food. Once you pick a trail to hike, the crowds thin out and you can enjoy some solitude on the trails.
After a day of hiking, head to the beach. This glacier fed lake is clear and the water is pretty cold. But after a few minutes of adjusting to the water, you'll find it refreshing.
Colter Bay is also a great place to launch your kayak or SUP board. The lake is massive and plenty of space so you aren't right on top of other visitors.
Visit Mormon Row at sunset. Be sure to explore and get your photo with the famous T.A. Moulton barn with the gorgeous background of the Grand Tetons.
Then do a sunset drive of the 42-mile scenic loop. Great places to stop and enjoy the views are Snake River Overlook, Oxbow Bend and Jenny Lake overlook.
Day in Yellowstone National park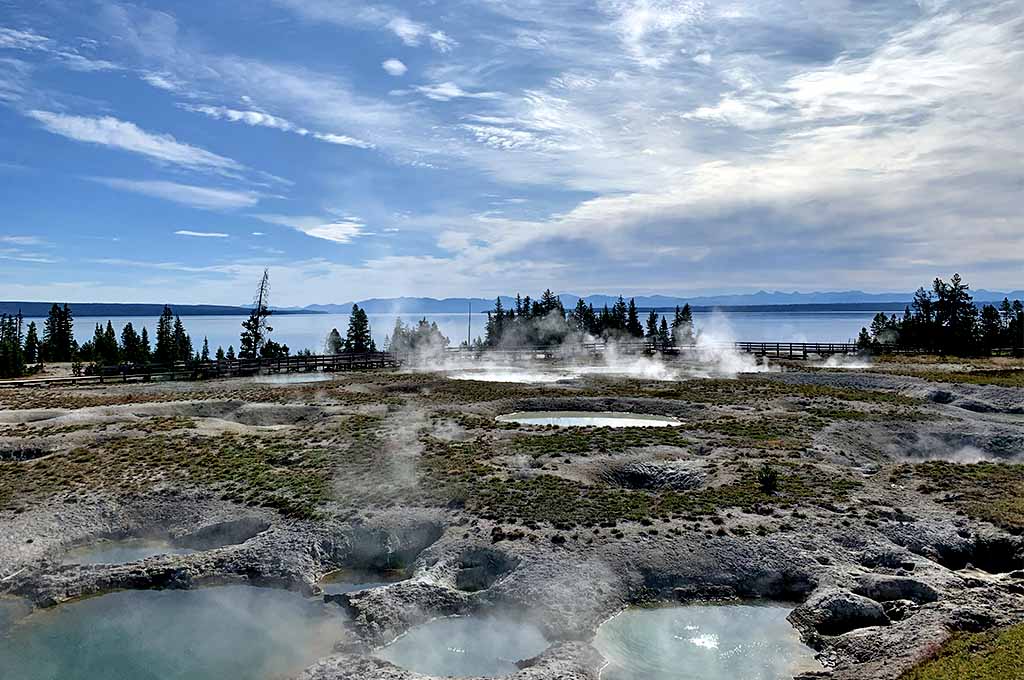 Another early morning – this is definitely a pattern when in Wyoming. Drive to Yellowstone and enter at the south entrance. It's about 2 hour drive from Jackson Hole, but the drive is beautiful, especially at sunrise.
Before entering the park, be sure to stop and get your photo next to the Yellowstone sign. I've heard there is typically a line to get a photo, but we beat the crowd and no issues.
Once in the park, it's about a 20 minutes drive to get to West Thumb. This is the perfect spot to stretch your legs and get a glimpse all that Yellowstone has to over. This area overlooks Yellowstone Lake and has several geysers to enjoy.
Then head toward the Old Faithful area. This is the most famous attraction in the park and expect large crowds. Be sure to walk the boardwalk behind Old Faithful.
This can take anywhere between 45 minutes to 3 hours. Depending on what you want to do. You can also get your souvenirs and lunch in this area.
Make your way around the lower loop making sure to hit all the hot spots. I highly recommend stopping at Grand Prismatic Springs, Artist's Paintpot Trail (my personal favorite), Artist's Point and Hayden Valley.
Hayden Valley is where most of the bison roam. Because of this, be prepared for bison jams and lots of people stopping for photos.
Back to Old Faithful. We stayed at the Old Faithful Cabins and it was the perfect spot! Typically they sell out a year in advance, but we were able to snag a cabin a month before we arrived because someone has canceled.
So if they are sold out, keep checking the website and a room might become available.
Yellowstone Itinerary
Another early morning. Grab breakfast and head out to Hayden Valley. Getting to this area early, you have a better chance of seeing bears and wolves.
Stop and explore Mud Volcano. It's a steep uphill hike to see the first geyser, but it's worth the stairs. Be aware this area is very stinking. But oh so cool!
My son really liked this area and it also has a good view overlooking Hayden Valley.
Mammoth Hot Springs. This is about a 2 hour drive from Hayden Valley, but is worth the drive. It has a totally different feel and look then the lower Yellowstone loop.
This area is extremely busy and parking is hard to come by. So you may have to wait until someone leave before snagging a spot.
Looking for more things to do in Yellowstone? Be sure to check out this detailed 2 day itinerary.
Yellowstone and Grand Teton Itinerary
Take a day off from driving and enjoy everything that Jackson Hole has to offer. The downtown area has plenty of shops to get souvenirs. I recommend grabbing a bison burger, shop and get your photos next to the antler arches.
What a little thrill? Then buy a pass at Snow King so that you can do the ropes course, mountain coaster, mini golf, maze and ride the ski lift to the top of the mountain.
Tips when visiting Grand Tetons and Yellowstone
Entrance Fee – $35 per vehicle each day or purchase the America the Beautiful Annual National ParKs pass for $80.
Packing – Hiking boots to keep feeling sturdy and dry. During the summer, the park is chilly during the early mornings and at night. A light jacket is a must.
Parking – The Grand Tetons is a large national park, but limited on parking. The busy hiking trails such as Jenny Lake, String Lake and Taggart Lake parking lots fill up early in the day.
Some places will let you park on the side of the main road while others will have the grass blocked and you'll be denied entrance.
So prepare to get there early (before 9) or come back after 4 p.m.
Pack plenty of food – Restaurants are limited inside the park, so it's best to pack a cooler with food for the day. Remember to be bear aware and not to leave any open containers of food.
A Cowboy's Life is all about finding Joy in the Everyday! I enjoy sharing fun dinner recipes, family travel ideas and outdoor adventures to explore with your family.