Everything is bigger in Texas. Even the sandwiches! Fry up some potatoes to go along side this Cowboy Brisket Grilled Cheese and you are all set for the perfect southern dinner.
Sometimes all you need is meat, potatoes and bread to make a delicious meal. This southern twist on a grilled cheese sandwich is amazing! It's the perfect meal when you have a hungry bunch to feed, but don't want to spend much time cooking. Make these fried green tomatoes as a great appetizer.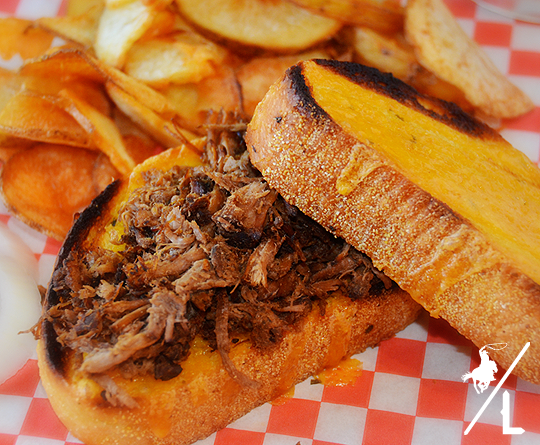 How to make Cowboy Brisket Grilled Cheese
Ingredients needed:
Texas Toast
Cheddar Cheese
Roast (Use your favorite crockpot recipe or use Hormel for a quick version)
Potatoes
Vegetable Oil
Directions for the Grilled Cheese:
Chop up the roast and heat in a cast iron skillet. (Because everything tastes better in a cast iron skillet!)
Cook the Texas Toast according to package
Add a slice of cheddar cheese and toast for about a minute
Add roast to bread and serve.
Directions for Brau Chips:
Heat up oil
Cut the potato into thing slices
Fry for about 20 minutes or until crispy
Sprinkle on salt & pepper
So simple, yet so scrumptious! Be prepared to start making this on a regular basis, because after one bite it will become a family favorite meal