An adorable Valentine's Day kid gift, Eye think you're cool valentine! Pair this printable with some fun sunglasses for the ultimate party favor.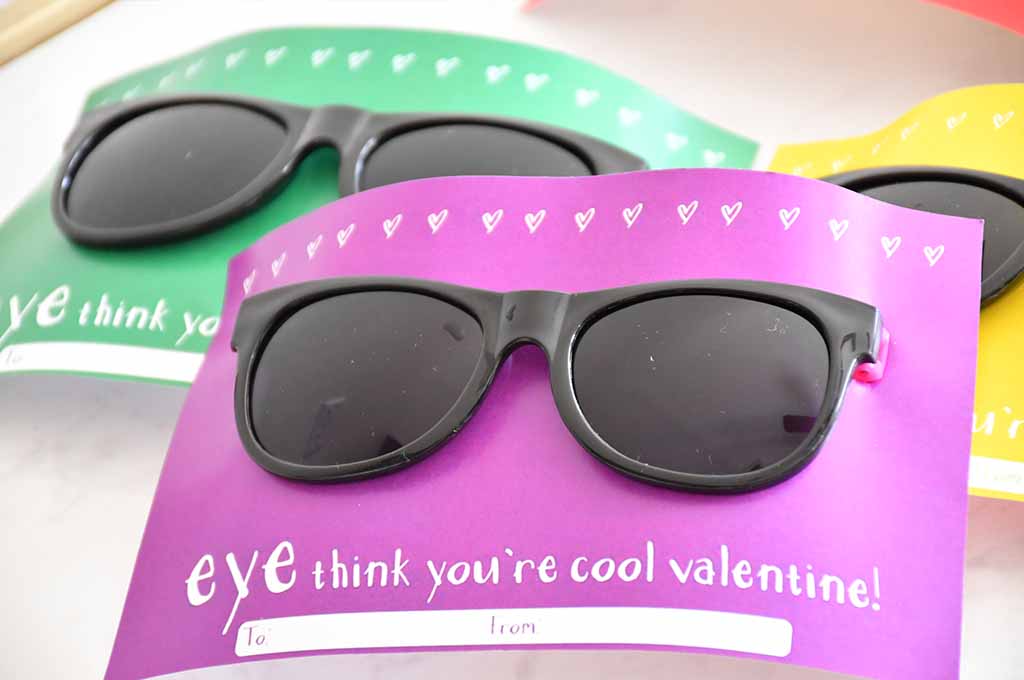 I'll take any excuse to create a cute craft or come up with a fun way to send a little love to my son.
One of his favorite things about school are all the parties! But with so much of the parties focused on loading kids up on sugar, I like to bring something that is not food related.
It can be difficult to find goodies that all the kids in his class will enjoy. So while perusing all the fun goodies over at Oriental Trading, I came across these neon sunglasses. They are so cute and all kids love wearing shades!
What I love about these free valentine printables are that they can be used all year round. Perfect to party favors, regardless the season.
EYE think you're cool valentine!
Printable valentine cards for kids supplies:
Directions:
Print out the free Valentine's Day printable.
Cut out the card using scissors.
Using the exacto knife, make two slits in the middle of the card to place the sunglasses through.
Then using a marker, have your child fill out the gifts for classmates.
Download your Valentine's day kids printable here
No printer? Don't worry, you can take the file to Office Depot and get them printed for under $5.
This Valentine's Day school gift idea is so easy to throw together and the kids are going to be excited to wear their new glasses. And parents will thank you for not giving their child more candy!
More Valentine's Day gift ideas you'll enjoy: